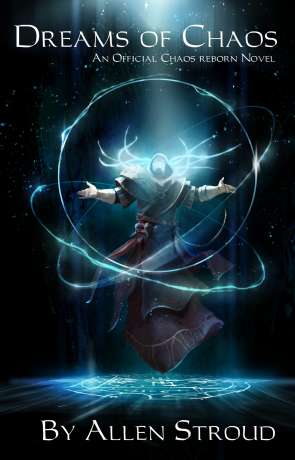 Book details
Dreams of Chaos

Publisher:

ISBN:

978-1910987087

Published:

June 2016

Pages:

220

Format reviewed:

E-Book

Review date:

05/08/2016

Language:

English
About the author
Dreams of Chaos, the first in a trilogy by Allen Stroud, is a companion piece to the computer game Chaos Reborn from Snapshot Games. Set in the 14th Century, it explores an alternative history of our world mainly set between Europe and the Far East with copious amounts of wizardry and religious orders thrown into the mix. Wizards walk amongst us, and have done for centuries, wielding magic as they seek to transcend mortality by acquiring our faith and devotion. Their manipulations lie at the heart of our religions, they promise heaven so that they might become eternal gods and rule over us forever. Add some highly skilled weapons masters coupled with a handful of shadowy figures and we are presented with a proper sword and sorcery novel.

Stroud readily weaves the historical with the fantasy elements of his work, drawing upon real events from the 14th Century and telling his story as they play out in the background. One such example is one of our main protagonists, Piers Gaveston. Historians will know him as a close ally to King Edward II and, within Dreams of Chaos, he takes on the additional role of church sanctioned wizard becoming embroiled in a whole raft of political twists and turns. His part expands as the tale unfolds and he becomes witness to one of the most pivotal parts of our story where the fabric of our world and society is risked for the attainment of power.

We are introduced to Piers from the off, following a brief prologue, and it is shortly after that we meet Katya and Galina, two sisters born with powers they do not fully understand. Their kinsfolk and fellow villagers treat them with cautious respect but, before this is explored in more depth, they rush off into the wider unknown of the world, for reasons unexplained, following the death of their father. It is as we get deeper into the book that we begin to understand the significance these siblings might play in the future of the world.

Other figures of significance emerge in the chapters which follow across different continents but I will leave you to discover them for yourself. As the story progresses we are drawn across the world and introduced to vampires, faeries and other beasts out of legend. This works well and Stroud has a way with his writing where nothing feels out of place or forced, stitching together the fantastical with the historic with ease. Magic comes more and more to the forefront of the tale and there are political plots playing throughout as the Church and others continue to make their moves.

There was a part of me which felt lost at points in the book which made me wonder if this was a lack of knowledge of the associated game or not. It takes us until about halfway through the book before we find out what role Katya and Galina are to play following a hiatus of seventeen years where they appear to do little of any significance. Until that midway point we are following them in more in expectation making it hard to root for them with no 'great quest' seemingly in their futures. In other places I struggled to keep track of the varying alliances as we returned back to characters not encountered for a period of time though this may be the failings of this reviewer's memory as age creeps ever onwards.

Dreams of Chaos is a good fantasy novel which brings us an interesting mix of characters. The action scenes are well written and there is enough intrigue and action to keep the pages turning. As with any trilogy we are left with more questions left unanswered than are resolved by the final pages. I'd be interested to see where our protagonists go from here as it felt as if we were moving to the real meat of the story as we reached the climax to this first part. However, whilst written as a standalone novel, I am left wondering if I would gain a fuller understanding of the world by immersing myself in the game for a few hours or delving into the history books.

Overall, a well written tale which shows promise for the subsequent volumes and one I suspect fans of the associated game will enjoy.
Written on 5th August 2016 by Phil Sloman.
You may also like