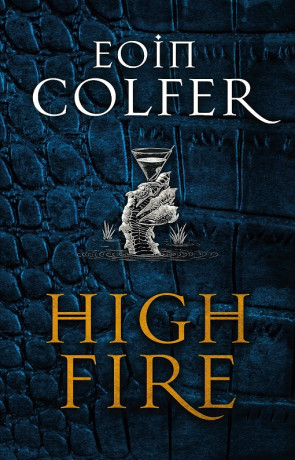 Book details
Highfire

Publisher:

ISBN:

9781529402049

Published:

January 2020

Pages:

384

Format reviewed:

Paperback

Review date:

27/01/2020

Language:

English
About the author
Dragons get a bad press. They may have been known to ransack a few villages and eat people, but if they were left alone, they would not bother you. They are, of course, extinct now. If one or two of them remained where would they hide? Somewhere remote enough to be away from crowds carrying pitchforks and torches. A swamp would be ideal. They would just require a friendly human or two to provide them with important vittles' such as magazines and vodka. I get the impression that the dragon in Eoin Colfer's Highfire is not your average fire breather.
Vern is a dragon that is thousands of years old and has pretty much seen it all. He has lived through the days in which dragons ruled the Earth and had humans do their bidding, only for those pesky apposable thumb types to take over. Dragons have now drifted into the realm of mythology, but that does not stop the hard drinking and harsh talking Vern from hiding in a remote Louisiana bayou. He has a life of sorts that is ticking away until the troublesome Squib Moreau turns up being chased by some grenades.
There is something to be said about a book that is hard to pigeonhole. Highfire is urban fantasy, but that genre is not usually told from the point of view of a talking dragon. Vern is no Puff the Magic Dragon, so the fantasy is mixed with adult humour and a dark crime narrative. The closest thing it can be compared to is if Carl Hiaasen met Tom Holt. The largest praise that Colfer gets is that he writes about a talking dragon and it makes sense. Within a few pages you just take it as fact that the last dragon on Earth could be hiding in a swamp.
The books opening is entertaining for simply being absurd. Colfer has given considerable thought of how and why Vern finds himself hiding in a shack. There are hints throughout about how Vern was once Lord Highfire, but for now he is a spirit drinking loner. The humans in the story are as well rounded. Squib is an interesting protagonist. He is a young and impressionable lad who is on the fast track to Juvenile Hall. He is described as someone who is not a child, yet not an adult. This is the perfect age for him to be able to interact with a dragon without his mind breaking.
This Pete and his Dragon style relationship could have been the entire crux of the novel, but it is not. Colfer introduces corrupt local cop Constable Hooke. With the dragon's fierce reputation, it would be easy to assume that Vern is the bad guy, but Colfer assures us that humans are far worse. Hooke is a sociopathic monster who is deadened to the suffering of others. When Squib witnesses Hooke commit a crime, he will need the dragon as an ally, not an enemy.
The book works brilliantly as it takes leftfield choices all over the place. When you start to think you know the direction that it is heading, something happens to knock it off course. Colfer has not only written a good slice of urban fantasy, but also a rocking dark comedic crime novel. You will require a strong stomach for the violence and not mind hard language. In this way it is in keeping with some of the best comedy crime writers. The setting and the tone truly have a flavour of Hiaasen and that is nothing to be ashamed of.
I have read books about dinosaur PIs and books about zombie detectives so am used to odd choices in urban fantasy. Colfer's first foray into adult fiction is a triumph as he has been able to balance the fantastic elements with a gritty and amusing crime narrative. The pleasure is having a dragon as the main character feeling natural. Fans of comedic fantasy will enjoy this book as will readers who have grown up reading Colfer and are now old enough for a book that contains drugs, guns, murder and a dragon urinating on people.
You may also like