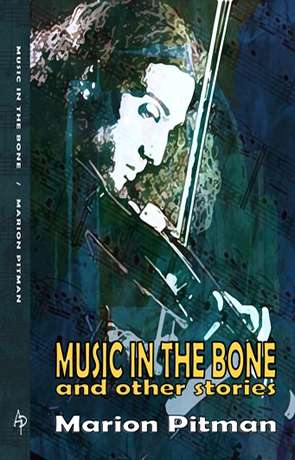 Book details
Music in the Bone

Publisher:

ISBN:

9781911034001

Published:

October 2015

Pages:

200

Format reviewed:

E Book

Review date:

25/10/2015

Language:

English

Age Range:

N/A
Anthologies from Alchemy Press specialise in bringing myth to a contemporary setting and general involve adult characters living adult lives.
Music in the Bone is no exception to this. It's quite a varied collection of Marion Pitman's work from a number of different sources and spans a long career of writing. Within this collection we have twenty pieces; some very short, almost motifs and some poetry, but all clearly expressed. The shortest, such as Amenities are clearly written for their length and not a study in image as other writers might attempt. Independent women feature prominently as our viewpoint and protagonist, which makes for a refreshing read, but where a male viewpoint is taken; there is no discernible drop of insight.
Highlights abound. After the shot poem Cave Arborem, the title story Music in the Bone begins. Here we have a meticulously built story, drawn from myth. It fuses techniques of horror and fantasy into an intimate tale of disturbed seduction and dark urge. Pitman plays her cards towards a terrifying conclusion, but pulls away towards the end, leaving both main characters to survive their encounter, although Lena is scarred by her experience and Ed's crimes have been revealed and may yet see him punished.
Pitman's comments on each story in the author notes at the end provide some excellent insight and context.
Indecent Behaviour is a vicious and unsettling little story that the author professes not to like in terms that reminded me of C.S. Lewis' alleged condition after writing The Screwtape Letters. It is certainly a difficult but thought provoking read in the way it uses sexuality to define the identity of its main characters, who are both horrible men, and the choice of their 'punishment'. The important thing to note is how they are left is torture to them, becoming what they professed to hate, not a comment endorsing or legitimising their view. In this, Pitman is taking a cue from Dante's Divine Comedy and depicting a personal hell on earth. The Indecent Behaviour of the title is the act of violence and perhaps the public circumstances the men find themselves in, not the homosexuality, although to the men, ultimately it is this that they perceive as being indecent and shameful.
Saxophony returns us to the theme of music and brings the Pied Piper to urban fantasy, woven amidst what feels like a more visceral mythology. Pitman's use of the personal relationship in this story brings it strength as it dances towards an unexpected conclusion.
Some stories aren't as well thought through. Overnight Bus leaves the reader with some powerful images, but seems to change gears midway through. The build towards the bus journey and the bus journey itself are excellent, but once this is over, the story doesn't seem to know where to go and in the end, it concludes as an episode in a longer travelogue. We are left with the haunting images of that night at the rest stop, with less development of this idea than we'd like.
The Cupboard of the Winds is another nice urban myth that blends the old with the new and arrives at a clever and humorous solve. The rules of the story are clearly laid out without over generous exposition and the use of modern technology as magical novums works well.
Meeting at the Silver Dollar rounds out the collection and this is a fairly conventional western, but illustrates the construction of legend and myth around a character. It allows Frank Davis to punch a hole in his own legend before events require him to enhance it. The irony here is intentional and raises a smile.
Music in the Bone is a lovely collection of diversions and adds a new tome to the Alchemy Press shelf of intelligent, adult, urban fantasy. There are messages to find here; characters to like, love and hate; places to remember and ideas to stir the mind.
You may also like