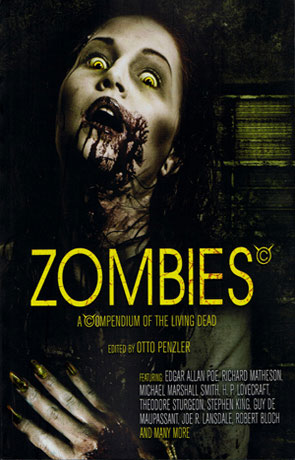 Book details
Zombies: A Compendium

Publisher:

ISBN:

9780857890276

Published:

January 2012

Pages:

832

Format reviewed:

Paperback

Review date:

23/01/2012

Language:

English
Brains, Brains, BRAINS!, you just have to love those lurching, decaying animated corpses. The living dead make a great enemy and here we have wall-to-wall flesh eating monsters, ghouls and things that go bite in the night, brought to (un)life by some of the best horror and fantasy writers in the world.

A companion volume to the incredible collection of The weird, it's a book that is vast in scope and gargantuan in size - The Worlds Biggest Zombie Anthology - including the first ever short story featuring Zombies (although the much earlier Frankenstein by Mary Shelley featured the "re-animated" dead as it's main plot). W.B. Seabrook wrote "Dead men working in Cane fields" in 1929 and claimed that it was entirely factual without "fiction or embroidery" and was based on his visit to Haiti. Make of that what you will but by any reckoning it's a little disturbing. It is also interesting to note that until George R Romeo re-invented the Zombie in 1968 (inspired of course by Richard Matheson's novel I am Legend) they didn't have a taste for human flesh - something I wasn't actually aware of.

The Compendium contains work from some of the finest (and some of the most prolific) writers including H.P. Lovecraft, Stephen King, Edgar Allan Poe, Richard Laymon, Kevin J Anderson, Richard Matheson, Harlan Ellison, Robert Silverberg, Robert McCammon, August Dereleth, Theodore Sturgeon and Michael Swanwick - amongst others.

There are some really great stories contained within, with a wide range of styles and different voices, all celebrating the lurching undead. There are some real gems inside, many of which show the Zombie in a different light. If you have even the slightest interest in Zombies or indeed Horror then this book should be in your collection, it's like a bible of the re-animated, eclectic and magical it will keep even the fastest reader entertained for weeks.
The List in full:
W.B. Seabrook Dead men working in the cane fields
David A. Riley After Nightfall
Hugh B. Cave Mission to Margall
Chet Williamson The Cairnwell Horror
Arthur Leo Zagat Crawling Madness
Lisa Tuttle Treading the Maze
Karen Haber Red Angels
Michael Marshall Smith Later
Vivian Meik White Zombie
Guy de Maupassant Was it a Dream
Steve Rasnic Tem Bodies and Heads
Dale Bailey Death and Suffrage
Henry Kuttner The Graveyard Rats
Edgar Allan Poe The Facts in the case of M.Valdemar
Yvonne Navarro Feeding the Dead inside
Charles Birkin Ballet Negre
Geoffrey A. Landis Dead Right
Graham Masterton The Taking of Mr Bill
Jack D'Arcy The Grave Gives Up
H.P. Lovecraft Herbert West - Re-animator
H.P. Lovecraft Pickman's Model
Robert Bloch Maternal Instinct
Kevin J Anderson Bringing the Family
Richard Laymon Mess Hall
Sheridan Le Fanu Schalken the Painter
Thorp McClusky While Zombies Walked
Mary A. Turzillo April Flowers, November Harvest
Mort Castle The Old Man and the Dead
Henry S. Whitehead Jumbee
Peter Tremayne Marbh Bheo
Thomas Burke The Hollow Man
Anthony Boucher They Bite
Gahan Wilson Come One, Come All
Ramsey Campbell It Helps if you Sing
R. Chetwynd-Hayes The Ghouls
Seabury Quinn The Corpse-Master
F. Marion Crawford The Upper Birth
Ralston Shields Vengeance of the Living Dead
Harlan Ellison & Robert Silverberg The Song the Zombie Sang
John H. Knox Men Without Blood
Uel Key The Broken Fang
Theadore Sturgeon IT
Day Keene League of the Grateful Dead
Garry Kilworth Love Child
Edith & Ejler Jacobson Corpses on Parade
Richard & Christian Matheson Where there's a Will
Michael Swanwick The Dead
Many Wade Wellman The Song of the Slaves
H.P. Lovecraft The Outsider
Robert McCammon Eat Me
Joe R. Lansdale Deadman's Road
Robert E.Howard Pidgeon's from Hell
Scott Edelman Lives People Don't Understand
August Derleth & Mark Schorer The House in the Magnolias
Stephen King Home Delivery
Arthur J. Burks Dance of the Damned
Theadore Roscoe Z is for Zombie
Written on 23rd January 2012 by Ant .
You may also like