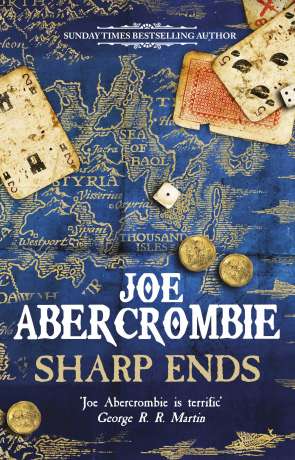 Book details
Sharp Ends

Publisher:

ISBN:

978-0575104679

Published:

April 2016

Pages:

304

Format reviewed:

Hardback

Review date:

13/10/2016

Language:

English
About the author
There is much to like about Joe Abercrombie, particularly when he returns to his darker writing, as published by Gollancz. One of the founders of the 'grimdark' movement, Abercrombie's gritty brand of fantasy delivers real consequences and hard bitten characters in all the different adventures he has written in the world of the First Law.
Sharp Ends is a collection of short stories set in this ongoing fiction. Some of these have been previously published elsewhere, but the book brings them together in something of a chronology, pleasing fans of the longer novels. It is refreshing to have Abercrombie return to the writing style that brought him to the attention of fantasy fans, eschewing the lighter weight series he is working on with Harper Voyager.
As always, Abercrombie's writing is masterful. His descriptions are flavoured by the perspective of characters and he pivots viewpoint around events at key moments to highlight them. This trick worked best in his epic novel The Heroes and is less successfully employed here in Yesterday, in a Village Called Barden, owing to the tighter word count.
Abercrombie's First Law is often compared to George R. R. Martin's A Song of Ice and Fire and the hardback of Sharp Ends features a quote from his illustrious peer. However, Abercrombie's work lacks the grand political game of Martin's. The Union and its adversaries are playing out wars that have gone on for centuries, with ancient wizards manipulating all that lies in front of them, but the reader only glimpses this in some of the novels and after the first three books, doesn't share the quest on this level. Instead, Abercrombie has drawn inspiration from other sources, such as heist stories, tragic battles and westerns, which all work in their way in their respective novels. There is a focus on characters with less political power, highlighting their visceral existence in an unforgiving world. 
However, there is a sense that stories of a dark fantasy flavour have moved on a little from Abercrombie's morsels. He still has few peers in the slickness of delivery, but ultimately in each of these works, there is little in the way of a deeper message. The tightness of personal narrative provides an excellent opportunity to create allegory, but this seems to be absent. Other writers are using the anti-Hemingway approach to deliver a meaningful social comment, which Abercrombie doesn't do. You get the sense that despite all the grim desperation and grunted or spat out dialogue, the author still wants his readers to escape, be entertained and put things away after without thinking too hard about them. The profile of his First Law trilogy and its standalone sequels gives him the chance to do that with Sharp Ends and this collection of early adventures experienced by familiar lets the reader step back into their comfy blood-soaked shoes.  There's no stand out story in the collection, as most involve set pieces or short problem/question solution narratives, making use of the particular skill sets of each character involved. Most of Abercrombie's more interesting characters feature only at the periphery, although Glokta's formative experiences in A Beautiful Bastard are a nice foreshadow of what Abercrombie fans know is to come and Bremer dan Gorst's clenched performance in the aforementioned Yesterday, in a Village Called Barden is a welcome familiar presence.
Sharp Ends fulfils the brief of being a collection of extra morsels, jacketed in the familiar parchment map covers of the rest of Abercrombie's Gollancz work. There's certainly some unfinished bloody business to be explored in the world of the First Law and hopefully he'll return to the Grimdark to explore it with some reflection and relationship to real events in our modern troubled times.
You may also like