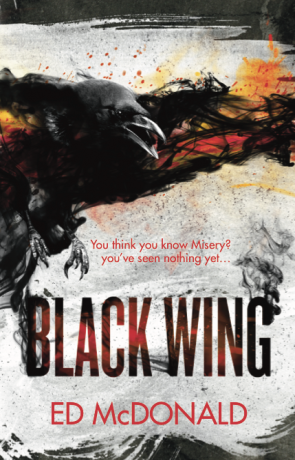 Book details
Blackwing

Publisher:

ISBN:

978-1473222014

Published:

July 2017

Pages:

384

Format reviewed:

Paperback

Review date:

05/06/2017

Language:

English

Age Range:

15-
About the author
Blackwing is a book that suprised me more than any other has so far this year. It's the debut of Ed McDonald and boy what a way to make an entrance.
The book follows Galharrow, leader of the mercenary squad known as Blackwing. Galharrow and his band take on jobs most would consider too dangerous, especially when tasked with going into the wastelands of the Misery.
Some eighty years past the Republic was at war with the powerful, immortal Deep Kings. It ended not in any victory but at a stalemate when the wizard Nall released a weapon so powerful it warped and twisted the land, the creatures and people dwelling there. That land becoming the area known as the Misery. Since then the Deep Kings have been waiting for a way to get past such a defence. Should Nall's Weapon ever fail the Republic would be over-run.
It's a confident, addictive and completely immersive book. I picked it up expecting to read a few pages and just couldn't put it down. GrimDark fiction that feels grown up and mature, this is adult fiction that holds no punches.
The world-building is exceptional and ties in closely to the plot, while the characters are as complex as they are intriguing. The author manages to avoid too much exposition or over-descriptive prose, which helps the story move forward swiftly and consistently.
This is all backed by a solid plot which manages to keep the reader guessing and on their toes for most of the way through the book. Little touches like Galharrow's unique method of being summoned by his boss really do set this book apart.
Blackwing is an exceptional debut, I can't wait to see what the author does next.
Written on 5th June 2017 by Ant .
You may also like