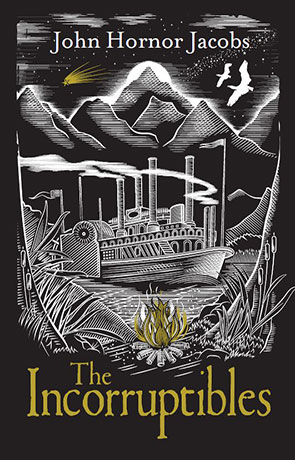 Book details
The Incorruptibles

Publisher:

ISBN:

978-0575123328

Published:

August 2014

Pages:

320

Format reviewed:

Paperback

Review date:

17/09/2014

Language:

English

Age Range:

15-
About the author
The Incorruptibles is a tightly paced novel that feels fresh, leaving behind characters to be pondered long after the story ends.
Synopsis: On the edge of the Empire, a motley group of mercenaries protect a gluttonous governor and his family from the twisted evil that exists beyond the safety of the Empire. Sudden events up the ante between the Empire and the nations they are at war with, leaving Fisk and Shoe to protect the nobles and a girl—whom might just hold the secrets to ending the prolonged war. Not only is their journey one of physical terror, but also one complicated by a conflict that is greater to overcome—the corrupt politics between nobles and those who aren't.
Critique: John Hornor Jacobs creates a new world inhabited with beautiful, terrible things. The nightmarish landscape surrounding the Empire is reminiscent of territories Roland of Gilead (Dark Tower Series) traveled on his way to the Dark Tower. Jacob's talent for creating a unique dialect, best exemplified by Fisk, flows in a way similar to a Mark Twain protagonist. Mixing nostalgic themes from genres such as steam punk, horror and fantasy, Jacob tugs our little steamboat upriver, leaving the reader feeling grungy, crept-out, and cautiously fearful of the stretchers (half-elvin/vampir'sh creatures). Overall: the story hits 5 Stars. Highly entertaining and fast-paced is a necessity and this story delivers just that, while offering a new fantasy to slip into for a few hours. Preferably not too near the witching hour.
You may also like