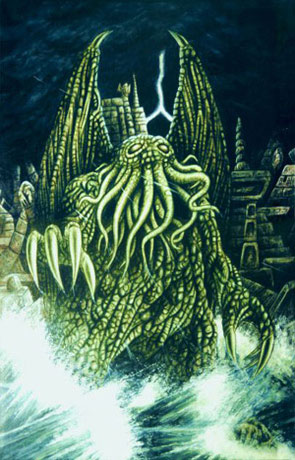 Book details
The Nameless City

Series:

Cthulhu Mythos

Publisher:

ISBN:

Published:

November 1921

Pages:

Format reviewed:

Paperback

Review date:

09/03/2011

Language:

English
Books in the series
Elysia
In the Moons of Borea
Spawn of the Winds
About the author
The Nameless City is a short story by HP lovecraft and is generally considered to be the first Cthulhu Mythos story, published in 1921.

In the middle of the Arabian Peninsula is an ancient ruin, it's been there longer than humanity and was built by a race mostly forgotten. These crawling reptiles may be undiscovered by modern man but still survive in some form beneath the earth.

Narrated from the first person perspective of the protagonist (an unreliable narrator perhaps considering the ending?) as he finds and investigates this lost and ancient city. There are a few passages quoted from Abdul Alhazred "the mad poet" and the author of the fiction Necronomicon who is referred to in much of Lovecraft's writing, although here he is just mentioned as an authority of the occult.

The story itself is very short and is written in the authors usual flower prose, it's very much gothic in style and Lovecraft does a very good job of building the tension towards the climax of the novel while there is a pervasive undercurrent of hidden power.

The Nameless City is a descriptive and perspicaciously written short story that should only take a few minutes to read. It works well as a good introduction into the world of the Cthulhu Mythos or Lovecraft in general.
Written on 9th March 2011 by Ant .
You may also like