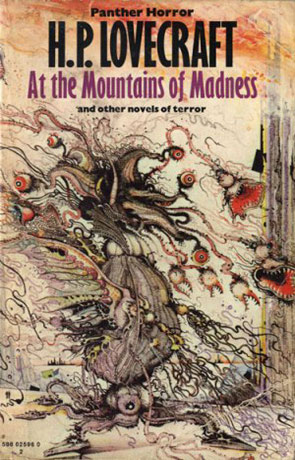 Book details
At the Mountains of Madness

Series:

Cthulhu Mythos

Publisher:

ISBN:

Published:

February 1936

Pages:

224

Format reviewed:

Paperback

Review date:

22/03/2011

Language:

English

Age Range:

N/A
Books in the series
Elysia
In the Moons of Borea
Spawn of the Winds
About the author
At the Mountains of Madness is a novella set within the Cthulhu Mythos and written by HP Lovecraft.

The Barren, windswept interior of the Antarctic plateau is considered completely devoid of life until an expedition from the University of Miskatonic find strange fossils of unknown creatures along with carvings in stone that appear to be millions of years old.

One of Lovecraft's longest works at over 40 000 words, At the Mountains of Madness is almost the size of a full novel and describes in rich detail an ill fated expedition to Antarctica, narrated by one of the survivor's and leader, the geologist William Dyer.

While the rich prose is very much in Lovecraft's usual style - which does include the fairly relaxed pace that is prevalent throughout much of his work, there is a greater amount of time given to the backstory than usual. According to Lovecraft's biographer S T Joshi, he had a lifelong interest in Antarctic exploration and was fascinated with the continent. Inspired from the age of 9 by W. Clark Russell's 1887 book The Frozen Pirate, he had written several small treatises on early Antarctic explorers by the age of 12.

This interest is clearly reflected in the level of detail that has gone into the story and there is a real sense of the joy Lovecraft must have felt writing this tale. As far as the plot goes, there is more of an emphasis placed on the science fiction aspect's of the Cthulhu Mythos until the last few chapters and there is a great deal of detail given over to the Shoggoth and the Old ones. From a point of view of learning more about Cthulhu this is a great novel to read, and it is more of a full novel than most of Lovecraft's other cthulhu works. As a stand alone it also works very well, as long as you don't mind the fairly pedestrian pace.

The film rights to this book have been picked up and until very recently it was planned on being adapted by the acclaimed director Guillermo Del Toro, produced by James Cameron and rumoured to star Tom Cruise. This has however been now put on hold due to the budget required to do justice to the novella - Universal Studio have been reluctant to give $150 million to a Horror film that doesn't carry a cast iron guarantee of at least $500 million box office sales. So no film yet but fingers crossed it may yet just be lying dormant like the Old Ones themselves and will awaken to terrorise entertain us all.

At the Mountains of Madness is a richly detailed masterpiece, hugely rewarding and a must for any Cthulhu fan.
Written on 22nd March 2011 by Ant .
You may also like