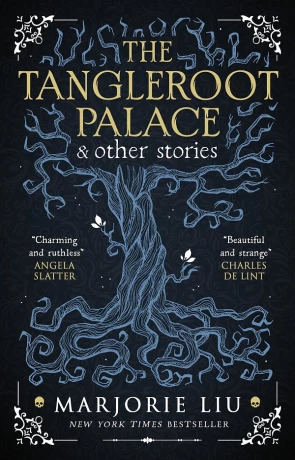 Book details
The Tangleroot Palace & Other Stories

ISBN:

9781789099621

Published:

April 2022

Pages:

239

Format reviewed:

Paperback

Review date:

21/04/2022

Language:

English
If you go down to the woods today, you are in for a big surprise. Something far worse will be waiting for you than a few bears holding sandwiches. These are the ancient woods that our ancestors grew up near, pockets of civilisation surrounded by darkness and danger. When myths and folklore were being created what did people believe lived deep in the forest? Marjorie Liu's collection, The Tangleroot Palace and Other Stories captures this feeling of fae folk and mystery and not always in a fantasy setting.
From the retellings of famous fairy tales to military science fiction, Tangleroot is a book that builds small pocket worlds and fills them far more than should be possible in 50 pages. Liu leans on some of the reader's perceptions of what a story about Fae folk should be. This allows for a deeper story, but do not expect to know what is going to happen next as these are a dark and modern take on stories that feel familiar but are themselves unique.
There is an art of producing something that feels timeless but is new. Several tales within Tangleroot have the feel of a child's storybook but are far darker than even the brothers Grimm were able to produce. Part fairy tale, part myth, the likes of The Briar and the Rose and The Tangleroot Palace play on a reader's preconception of what a fairy tale should be but creates a darker adult take.
Other stories are based more on the ideas of what magic and witchcraft used to be. Sympathy for the Bones is a disturbing tale told from the perspective of a Witch's apprentice. It gives the occupation of being Witch a sense of depth and reality. They are just people who live on the edge of the community providing cures and curses for those that seek them out.
Liu's stories do not concentrate solely on fantasy. There are also stories set in an urban fantasy world and a science fiction tale. Both retain the feel of Liu's style. The Last Dignity of Man is a story about someone obsessed with Superman but told in an incredibly interesting way. The Light and the Fury is the most different with a setting of an alternative Earth where powerful Crystal Skulls have created a World War of military might with magical distortions.
Be they fairy tale of sci fi, all the short stories within Tangleroot have some things in common. Firstly, they are all excellent. There is not a poor story among the seven on offer and that is not always the case in collections. There are also great characters, in most cases strong female protagonists. Liu brought heart to all the stories, even the darker ones. There is a sense of hope that weaves its way through the darkness. There is plenty of dark gothic action, but I found the stories to be uplifting. A fine collection of works that will have this reviewer checking out some of Liu's longer form novels in the future.
You may also like