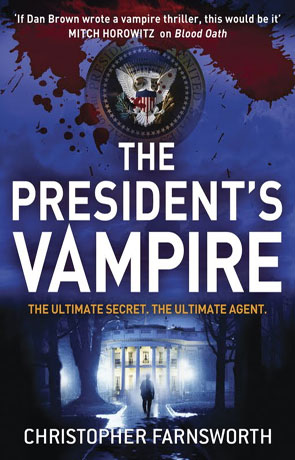 Book details
The President's Vampire

Publisher:

ISBN:

9780340998182

Published:

August 2012

Pages:

352

Format reviewed:

Paperback

Review date:

12/10/2012

Language:

English

Age Range:

N/A
A one hundred and forty year old Vampire who is sworn to protect the President of the United States, now THAT is an interesting concept. It's the idea of the author Christopher Farnsworth who presents us with an rich urban fantasy that manages to honour some well known and much loved series while still creating something a little different. The President's Vampire is the direct sequel to Blood Oath and while you don't have to read that novel first it is recommended.
Our reluctant, immortal hero is Nathaniel Cade; America's best kept secret and assisted by his "handler" Zach Barrows. Together they must figure out why and how a seemingly powerful group is trying to replace humanity with something very different.
As urban fantasy's go, President's Vampire is pretty good, the use of a sort of tame Vampire as the protagonist works well as does the relationship between hero and handler but there isn't as much different than I expected there to be. The contemporary setting is however very rich and well described and there are some really great touches for the experienced reader. The characters are well written while the prose itself has a confident and welcoming feel that draws you in. The dynamic between Cade, Barrows and the other government bodies is quite frankly brilliant as are the action scenes that populate the book in just the right amounts and in just the right places.
I loved the nods to Lovecraft and Cthulhu, not only from the creatures themselves but even going so far as to mention the incidents that make up some of Lovecrafts short stories. Each chapter has an anecdotal paragraph, which all add to the atmosphere and the mix of fantasy and reality is very effective.
The President's Vampire is solid urban fantasy with some great ideas and even better writing, by the end I was itching to see where the character goes next and I sincerely hope the author continues the series. If you like urban fantasy with Vampires that doesn't get soppy or feature angst ridden teenagers then you will love this.
Written on 12th October 2012 by Ant .
You may also like