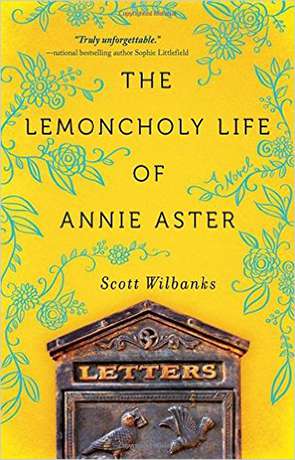 Book details
The Lemoncholy Life of Annie Aster

Publisher:

ISBN:

978-1492612469

Published:

August 2015

Pages:

400

Format reviewed:

Hardback

Review date:

02/11/2015

Language:

English

Age Range:

N/A
The Lemoncholy Life of Annie Aster was a rollercoaster ride from start to finish. Though it begins a little bit slow, as more and more threads are strung together for the reader, everything picks up. I love the storyline, I love the characters, and I love the settings.
In modern San Francisco, Annabelle Aster looks out her back door and discovers that 1890s Kansas exists where her rose garden should be. In 1890s Kansas, Elsbeth sees Annie's house on her acreage, and storms over to leave a (slightly) threatening note. A friendship begins across time, and with it, a whole lot of complications about a murder, villains, and the continuous stream of events that follow.
The characters were my favorite part of Lemoncholy Life. Granted, there were a lot of them. A lot of reviews stated that there was just too much going on in the book. I think that it could have perhaps used a little bit of pairing down (Christian's friend Edmond, for example, was an added character who I never really connected with and wasn't particularly interested in). Regardless, I thoroughly enjoyed the novel and it's jumble of characters, twisted plotlines, and surprises. The main character, Annie, was lovely. I worried that she would wind up being a bit of a Mary Sue (as she is ever-so-perfect), but she had just enough flaws to make me like her. She's spunky and smart and very, very stubborn. The other characters were also fantastic, though Elsbeth alone claimed my heart from the very moment she showed up in the beginning of the novel. I just wanted to give Annie's best friend, Christian, a huge hug, as he was such a well-written, sympathetic character.
The plot is fun. I really enjoyed following along, and despite the fact that a lot of it was fairly predictable, it didn't spoil anything for me. The writing captivated me. A lot of complaints on other reviews said that it was too Jane Austen, or trying to be something it wasn't, but I didn't feel any pretentiousness in the writing. Rather, I found myself very involved in the story and writing very early on. Wilbanks did a good job keeping us in the dark and revealing twists just at the right time, which made it feel suspenseful even though I suspected how the events would go.
It's hard to say much without spoiling, so I will leave with this: The Lemoncholy Life of Annie Aster is a fun, well-written, and interesting novel, complete with characters who you'll be hard-pressed not to love. If you're interested in time travel, mysteries, or anything of the like, this book is for you.
Written on 2nd November 2015 by Vanessa .
You may also like