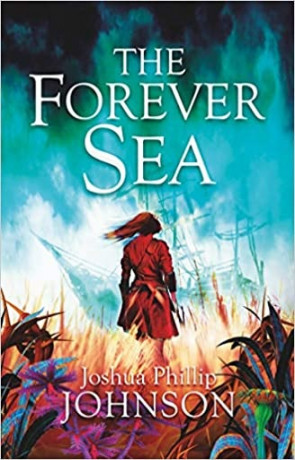 Book details
The Forever Sea

Series:

The Forever Sea

Publisher:

ISBN:

9781789093377

Published:

January 2021

Pages:

480

Format reviewed:

E-Book

Review date:

26/01/2021

Language:

English
Books in the series
If you have ever been out to sea on a sailing boat, you may have felt that feeling of majesty and awe that the water evokes. This vast expanse that continues as far as the eye can see. Depending on your personality, it can instil a sense of fear or a sense of adventure. I have felt this feeling on land on the flat plains of America, driving along roads so straight that you can see the curve of the Earth, the road builders throwing in a slight curve occasionally to keep you awake. These expanses of flat land and grass are not the sea, but what if they were?
Kindred Greyreach is a hearthfire keeper, the most important job on the harvest vessel The Errant. Hearthfires use magic to keep the vessels of The Forever Sea afloat as these are not waters, but vast expanses of Prairie Grass. If the flames fail, the boats will sink, and no one know what exists beneath the plants. Kindred's own Grandmother recently stepped of her a ship and sank into the depths. No one understood why, but now Kindred is hearing the call of the grass. Her internal struggles will have to wait as there are plants to harvest, water supplies to find and pirates to avoid.
Fantasy is a wonderful genre, but there are many books that have the same feel of an alternative Medieval Europe with added magic. It is great to have a book that comes at the genre from a different direction and that is certainly the case with Joshua Phillip Johnson's The Forever Sea. It is mostly set on an open sea formed from plant life as far as the eye can see. There are landmasses, but we concentrate on Kindred and the other crew members of The Errant. The book has as much in common with a swashbuckling pirate adventure as it does fantasy.
What makes the world building of Forever so impressive is that you feel there is a complicated ecosystem that supports it. During this first outing, Johnson is rightly not revealing all the secrets that the Forever Sea holds, but you feel that Johnson already knows and is just not telling... yet. In such an interesting and complex world, different from our own, Johnson gives space and time to each place that the crew visit – an island they call home, the sea itself, the pirate retreat and even the depths. Each is different and a joy to discover.
As well as giving time and space to the world building, the characters are also given a chance to shine, in particular Kindred. She has always felt different from others and feels like she can ask the flames to do her bidding, rather than forcing them. We learn about Kindred's hope and dreams, but also regularly jump back to a time when her grandmother was alive. By book's end, she is a fully fleshed character. Her relationship with the other crew members is complex and can end up in hate as easily as it can love.
There are plenty of moments of stillness in Forever and fans of character and world development will enjoy this slower pace. Interspersed through these are action set pieces that remind you of classic pirate movies of the 1950s, but with a lot more magic flying around. I do not get the chance to read much swashbuckling and this book makes up for that.
The Forever Sea is part one of a series and it paces itself like that. Those looking for closure will have to wait a little while longer. Instead, you get a world of introductions: innovative ideas, new characters, diverse biomes. I have not read anything quite like this book before and that is impressive, it has the base elements that make a good fantasy novel, but it is not afraid to explore new worlds in its own style.
You may also like