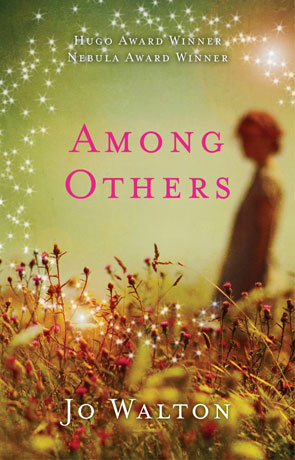 Book details
Among Others

Publisher:

ISBN:

9781472106537

Published:

January 2011

Pages:

416

Format reviewed:

Paperback

Review date:

22/02/2013

Language:

English
Awards won
About the author
Among Others is about as different from any novel I have read than the Moon is from a piece of pie. It's not even a book I thought I would enjoy either, if someone had approached me and asked me to read a novel about a 15 year old girls account of her life in a boarding school - delivered in the form of diary entries - I would have given them an odd look and picked up a PKD novel or perhaps a China Miéville story instead.
That's one of the advantages of being sent books to review, you can get taken out of your comfort zone and sometimes that's a good thing.
At first it did feel a little uncomfortable, I am after all a middle-aged 30 something man for all intents reading a 15 year-old girl's (fictional) diary. But the book is insidious, it gets to you without you even realising it. I kept thinking, I'm going to put this down in a minute, but I didn't; eventually abandoning any irrational thoughts that I was reading something I shouldn't (the pink book cover doesn't help in that regard). In actual fact I only put the book down once (to sleep) and read the whole thing in just two sittings - a highly unlikely event when you have 2 young kids full of post-Christmas frenzy.
I can quite understand how it won last years Hugo award, not only is it a very unique piece of fiction but it draws on the rich tapestry of 20th Century science fiction novels that makes it an irresistible read for anyone who's been interested in Heinlein, Delany, Zelanzy, Le-Guin, Vonnegut or any of the other greats.
One of the major differences in Among Others is the way it's constructed; it is essentially a first person account of Morwenna's life as a 15 year old just before the 1980's - told through diary entries and without any structured plot or back-story. As such the whole novel hinges on the character of the protagonist and the subtly told world she inhabits, glimpsed through her timely descriptions and ever so slowly do we learn what happened in the past. This includes a quite effective description of those creatures we call "Fairy" and the last time I read someone describe those creatures so effectively was in Graham Joyce's some kind of fairy tale.
Mor herself is pretty much irresistible, complete with the fragility, strength, unbounded youth and naivety of a 15 year old girl, clearly changed through her family history and eventful past. I'd never heard of the author before hearing about her winning the Hugo and can't imagine how I'd missed such a talent. It's also incredible just how much knowledge about science fiction the author has, pretty humbling to be honest. Reading the book gave me a thirst to enjoy more classic sci-fi, I'd love to have even a fraction of the knowledge about the genre. A highlight is the way that science fiction encourages ideas, thought and debate; it's one of the genre's greatest strengths and this message is prevalent through much of the novel.
Among Others makes a great ambassador for the genre - one I hope will encourage the reading of many more classic tales. A worthy winner of the Hugo award and an incredibly rewarding read.
Written on 22nd February 2013 by Ant .
You may also like