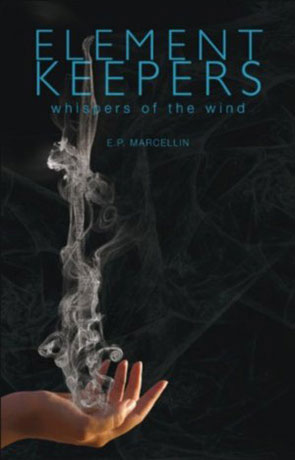 Book details
Element Keepers

Publisher:

ISBN:

9781616636586

Published:

November 2010

Pages:

300

Format reviewed:

E Book

Review date:

19/04/2011

Language:

English

Age Range:

N/A
Element Keepers: Wispers of the Wind is a fantasy novel by E.P. Marcellin.

Rhet is quite content living in obscurity and performing the simple task of gutting fish for a living until one day he is spirited away by nine exotic and beautiful strangers, transported across the continent and promised a lifetime imprisonment. He is told by his glamorous captures that he is one day fated to destroy the world if they do not stop him and it isn't long before he discovers that he holds great power within.

He is unique in the world, where magic users can pull threads of wind from the air and weave it to do their bidding, he can create his own wind, even where before there was none. But a quest for domination begins to unravel the very fabric of the world, destroying the balance that must be maintained - it only took one to start the spiral toward chaos, but one alone cannot save the world, no matter how great their power.

A new chapter in the story of the human race has begun. A slave will come to rule, a dockworker will meet his fate, and an unlikely group of companions will find themselves thrust to the forefront of the battle for life's existence. And man's future may be only Whispers in the Wind.

There is a really nice, fresh and almost tongue in cheek style to Element Keepers, one that comes across with a great deal of maturity and acuity. The world building is exceptionally well developed, from the descriptions of the myriad cultures to the elaborate magic system, even though there isn't a huge amount of time spent with this side of the story the details are spot on and result in a vibrant world that is almost a living breathing entity in itself.

The storyline is a fairly traditional fantasy one, although apart from the magic the actual fantastical elements are downplayed and I was reminded of Robert Jordan's epic Wheel of Time series on a number of occasions. There are a few ideas that have been borrowed from the series (some of which Jordan himself borrowed from others) but here they seem more condensed and do work very well.

The pace is pretty fast and not bogged down overmuch by immoderately descriptive world building - resulting in a fast flowing script that manages to keep the reader interest and ensures the pages fly by. The characters are also easy to relate to and it isn't long before I found myself rooting for Rhet and Peteal. The ending is very well played and results in you really wanting more, I must admit that it took me a good quarter of the book for the story to really grip but once it did it didn't let up and I enjoyed every minute of it.

Element Keepers: Wispers of the Wind is a perspicacious story set in a vivid world of compelling, colourful characters, recommended.
Written on 19th April 2011 by Ant .
You may also like