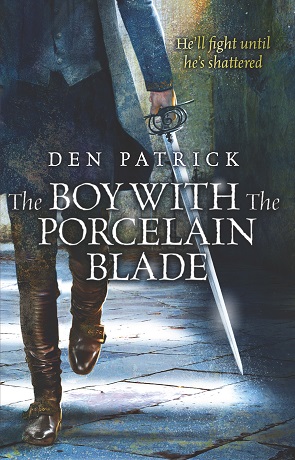 Book details
The Boy with the Porcelain Blade

Publisher:

ISBN:

978-0575133839

Published:

March 2014

Pages:

336

Format reviewed:

Hardback

Review date:

10/03/2014

Language:

English

Age Range:

N/A
About the author
Lucien de Fontein is one of the Orfano, a group who have grown-up deformed in some way and hold a strange place in society - not quite outcast but not accepted either, tormented by their deformity. Orfano are known to have powers that others do not and Lucien is as skilled a fighter as his young age and inexperience could possibly allow.
All Orfano are pawns in the political game that is overseen by the deranged king and his malicious second, Majordomo. This is a world where corruption and decay are deeply rooted but no-one would suspect just how deep this corruption and decay runs.
The Boy with the Porcelain Blade is a deliciously dark fantasy that wraps you up in the low-fantasy, gritty world the author has created almost from the very start. The whole journey from start to finish is an almost breathtaking one, never missing the mark or losing the reader and you really do feel for the plight of the lonely Lucien.
The author manages to stir real emotions in the reader with a gripping plot that sweeps you along the path of the protagonist right to the quite disturbing yet rewarding finale. The character of Lucien is delightedly nuanced, an outcast who refuses to yield to the pressures of society and despite his tortured past remains true to his morals. The only criticism I have about Lucien (and the book in general) is that we are perhaps reminded a little too much about his harsh life and the struggle hes faces, it does get ever so slightly wearing toward the end and the author had already made his point way long before. Having said that it is a small niggle and isn't enough to put you off reading.
The story alternates between Lucien's past and present, building up a rich picture and providing a nice break in the story. It does however take a little getting used to. The author has a very distinctive voice, somewhat akin to Patrick Roffus - there is the same quality of story telling and a similar level of intelligence. The world building and narrative style also draw comparison to Robin Hobb and Joe Abercrombie in particular with a similar low fantasy gritty feel.
The real star of the show is the gradually building, tense and dramatic plot which is nothing other than entrancing, the author does an incredible job of keeping the reader on their toes. The pace is fluid and fast resulting in a fast read.
The Boy with the Porcelain Blade is a highly accomplished novel, it's got bags of style and atmosphere, heaps of personality and a quality that puts it up there with the finest fantasy authors of the 21st century.
Written on 10th March 2014 by Ant .
You may also like