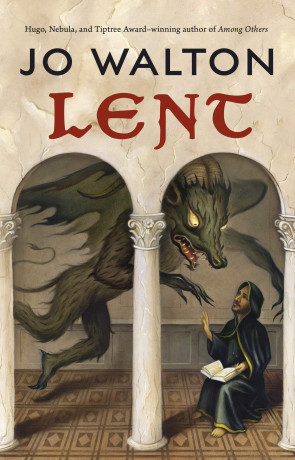 Book details
Lent

Publisher:

ISBN:

978-0765379061

Published:

June 2019

Pages:

336

Format reviewed:

Hardback

Review date:

26/07/2019

Language:

English
About the author
Jo Walton is a multi-award winning, talented and often under-appreciated author. A number of her novels examine philosophy, religion, divinity and humanity. Lent continues some of these themes along with her knack for creating irresistible, thoughtful and engaging fiction.
Girolamo Savanarola has led what some may call a charmed life and has seen things almost no-one else has. He is a devout priest and a prophet. He can see Demons plain as day, and cast them out with just the force of his will. When he visited the deathbed of Lorenzo "the Magnificent" Medici, the dying man is wreathed in celestial light. When Charles VIII of France invaded Italy, Savanarola convinces him to not only spare Florence but also protect it. He's a thorn in the side of the Pope and is popular far and wide for his sermons. Many admit that he runs Florence in all but name.
Savanarola is about to discover the truth about himself, and that's just the beginning of his many lives.
While on the surface you might think this book is about Catholicism, it isn't, not really. It is of course centered within a christian universe, but that's just the surface, the cover that reveals the real arguments. Walton introduces elements such as Demons and Hell to be real, to just accept these things and move on. Set in the 15th century, it does follow a religious protagonist (and features other religious characters), but it's also a retelling of a real historical figure (Savanarola) with some blending of the fantastic and an exploration of Renaissance Florence. The book explores the themes of hell and damnation, God, fate and free will (amongst others).
Savanarola did actually do some of the things Walton mentioned. He did manage to convince Charles VIII to abandon his invasion of Italy. He was a preacher and prophet, although expelling demons might be poetic licence. He was something of a revolutionary, a disruptor who despised corruption and exploitation. The historical event, Bonfire of the vanities, was his doing (the destruction of items that might tempt one to sin).
woven around this fantastic, larger than life character of Savanarola is this incredible story that elevates the real events and creates a tale that is simply breath-taking - think groundhog day but with more depth. It's the character of Savanarola that becomes the true focus of the book though, intricately detailed and wonderfully complex a character he is.
Walton has really excelled with this novel, it really wasn't something I was expected, or indeed prepared for - it's compassionate, compelling, clever and convincing fiction.
Written on 26th July 2019 by Ant .
You may also like