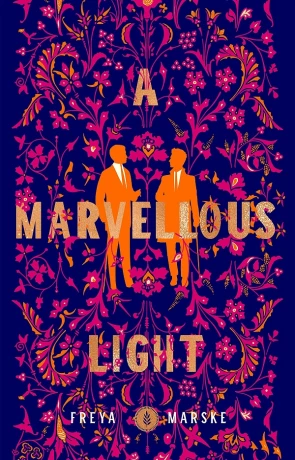 Book details
A Marvellous Light

Series:

The Last Binding

Publisher:

ISBN:

9781529080889

Published:

December 2021

Pages:

372

Format reviewed:

Paperback

Review date:

11/11/2021

Language:

English
Books in the series
Secrets are powerful. They can make or break someone. In the alternative Edwardian England of Freya Marske's A Marvellous Light there is a magical society of people who hide their powers. This is a big secret to keep, but there are others. Both Robin Blyth and Edwin Courcey have another secret, they are homosexual. In a society that deems this illegal they must keep their passions hidden. Which secret could ruin them first, magic or the person they would choose to love?
Sir Robin Blyth may have the title, but he does not have the riches. His parents died and left him with an estate he cannot afford and a sister to protect. When he is offered an undesirable job in the Civil Service, he takes it. Here he meets, Edwin Courcey, a liaison for magical society. Robin knows nothing about magic and is highly unsuited for the job, but when his predecessor ends up murdered the two find themselves investigating and getting to know one another better. First impressions are not always right it would seem.
Light is an Urban Fantasy but set in an alternative past. This means that the Edwardian England is something we recognise on the surface including its prejudices. This does not only impact on sexuality, but also on sex and race. Robin and Edwin are not the only people persecuted in the book, but as they are able to hide their sexuality, they find themselves better positioned than some of the other characters who cannot hide their skin colour or sex. Societal pressures of the time are at the forefront of Light and they help to shape the story. Rather than keeping Robin and Edwin apart, it draws them closer.
This is a book about murder and magic, but it is a character and relationship piece. The burgeoning friendship that develops further between Robin and Edwin is a focus for both characters. As the story is told from both their perspectives you see both sides of the story and although they do focus at times on the investigation, they do wonder about the other a lot too. The relationship deepens and does visit the bedroom. I am not prude, but reader discretion should be taken for those that like their stories to be sexually vanilla.
There is a real strength in Marske's writing when exploring character and relationships. It is clever to have parallel secrets of both magic and homosexuality. These are not mutually exclusive so both Robin and Edwin must deal with keeping further secrets from people in a secret society. You understand why these two men would be drawn to one another as they deal with similar worries.
The story is relationship focussed, but there is world building and a mystery. Light is part one of The Last Binding series and it promises wider development in later outings as Edwin and Robin have already got to know each other well by now. As a fan of crime fiction mixed with genre fiction, I would have liked some more time spent on the central investigation, but then fans of relational development will prefer the style found here. If you are looking for a fantasy book that has a strong central relationship, this book will suit.
You may also like