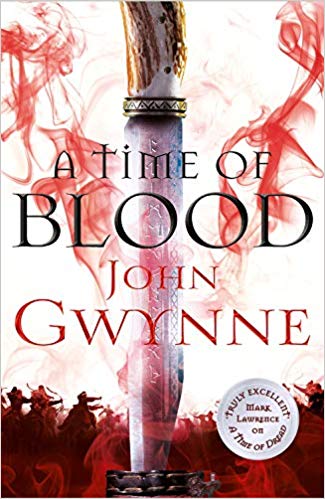 Book details
A Time of Blood

Publisher:

ISBN:

978-0316502276

Published:

April 2019

Pages:

512

Format reviewed:

Paperback

Review date:

29/04/2019

Language:

English
Following the events of A Time of Dread, this book raises the stakes even further. Drem and friends flee the horrors at Starstone Lake. They must warn the Order of the Bright Star that a Demon has risen, but Fritha, the Demon's high Priestess has other ideas and is hot on their heels. Meanwhile, concealed in a forest Riv tries to come to terms with her half-breed heritage.
As the Demons forces multiply, they send a host to destroy the Angels stronghold. Drem and the Bright Stars must battle to save the land, but can the light triumph when the dark is rising?
If none of the above makes any real sense, it means you haven't read A Time of Dread, so I'd go and read that first before going any further. Once you have, A Time of Blood becomes almost impossible to pass up. It does everything a sequel should do, carry the story forward and improve on what went before.
Moving the story forward in this context results in almost 500 pages of fighting and action, from almost the start there is hardly any let-up. That much action could quite easily become tiresome, but it doesn't. This is partly a result of the quality of the writing, but it's also how the author posits these two opposing forces. On the surface it's a classic, clichéd good versus evil match of Angel against Demon. But you quickly realise that this isn't the case - yes the Angels (Ben-Elim) are the "protectors" of humanity but that protection comes at a high cost. The Ben-Elim are conceited, arrogant and hypocritical to a level that humanity has to be controlled, but they are free to break their own roles when they feel the need. While it's true the demons aren't any better, the very notion of good versus evil is subversive. The real story is how humanity survives caught in the middle of a war against two forces with such inhuman powers.
I struggled to bond with any of the characters in the book, and while I'm sure it would have helped me enjoy the book more if I had, it didn't stop me from liking it. I can see the thought put into each of them and the author does a credible job of making each feel real.
The plot is interesting and enough to keep you hooked, while the pace is simply relentless, building some almost tangiable feelings of tension and the ending is nothing short of spectacular.
A Time of Blood is unmissable if you've read the previous book, and if you haven't it makes a compelling case to read both.
Written on 29th April 2019 by Ant .
You may also like