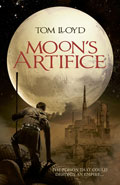 Book details
A man falls from the roof of a building, pursued by agents unknown and Lawbringer Narin is asked personally by none other than a god to investigate the matter and help find a cure to the unconscious mans poison, thus begins Moon's Artifice.
What follows is a powerful, rich fantasy tale that hits all the right notes. It feels like a grown up fantasy, one that's learned from past mistakes and is more mature, older and wiser. It also feels like one of those films that are packed with so much detail that you have to re-watch and re-watch before can see even half of what's on offer. It is a book I will return to.
The way the author writes seems very personal too, like he's speaking directly to the reader and involving them with the adventure. Around this is wrapped a wonderfully built world where Gods are real and life is cheap. A world where spirits prowl the dark, dirty streets and slippery precipitous rooftops. The characters are equally well drawn, even if there are a few of the traditional fantasy tropes thrown in there - such as the enigmatic old figure who is much more than he appears. These tropes are however never disguised, always in plain site and act as an examination of their use as much as anything.
I love the way the author doesn't sugar-coat anything, life's hard and bad things happen - even in a world of magic and Gods (perhaps even more so). A good case in point is Amnesia. Often in movies (and indeed books) a character has Amnesia and yet by the time the story ends they've got all their memories back and it's like it never happened. Not here though, here - just as in reality - everything has a consequence and getting Amnesia is something that you can't always quickly recover from - illness and conflict changes people as is highly evident here (not to mention teaching a lesson about running on slippery rooftops!).
The book reminds me a little of Daniel Polanskys' novels (The Low Town series in particular); its got that same edge about it, that same coolest kid in town feeling who makes you feel cooler just by association or involvement. It's also written by a hugely talented author who spins a great story with colourful characters placed in a richly realised world.
Pretty much a must for any fan of the fantastic.
Written on 31st January 2014 by Ant .
You may also like