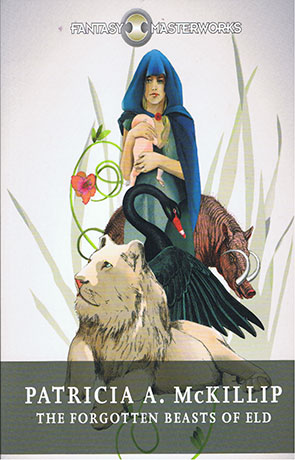 Book details
The Forgotten Beasts of Eld

Publisher:

ISBN:

978-1473212039

Published:

May 1974

Pages:

208

Format reviewed:

Paperback

Review date:

11/05/2015

Language:

English
Awards won
The Forgotten Beasts of Eld is fantasy at it's finest, it exemplifies and defines the genre in a way few others have. It won the first ever World Fantasy Award for best novel back in 1975, an achievement more remarkable when considering that it was only the authors third novel. For many who have read the book it becomes a treasured part of their collection. As with many deserving novels it has never had the exposure it deserves. Once again thanks must go to Gollancz and the inclusion of The Forgotten Beasts of Eld in the Fantasy Masterworks collection.
The novel tells the story of Sybel, a sixteen year-old grand-daughter of the wizard Heald who, with his son Ogam, brought many mythical beasts to live on Eld Mountain. Sybel inherited their strange power and cares for these creatures alone and cut off from the human world. That is however until a man brings her a baby to care for, the child of the recently deceased Queen of the Eld, Rianna. Sybel accepts baby Tamlorn and along with the help of nearby witch Maelga, raises him as her own. Eventually, inevitably, this brings her into contact with the human world and with it all the love, war, deceit and revenge humanity seems so fond of.
The book has everything you could want from a fantasy story. A delineated distinction between good and evil, awash with swords and scorcery, love, hate, intrigue and betrayal. At it's heart it is a love story while also being a reflection on humanity and coming-of-age. While all this might sound like it's just over-run with genre tropes, it doesn't feel derivative or less substantive but as if the use of those fantasy elements belong. The characters are wonderful creations, almost as magical as the powers described and much more realistic.
There is also a real sense of timelessness, of innocent wonder which is described in poetic and effortless style. If it wasn't for the fact that there is a great deal of substance to the story, I'd be temped to describe it as belletristic. In many ways it's also a precursor to a young adult novel but one that can be enjoyed by the younger and older reader equally. There is also a great deal of humour present, subtle and understated but genuine and warm too.
The Forgotten Beasts of Eld is a book that won't let go, once read it refuses to be forgotten and practically shouts out to be read again and again. A timeless classic that everyone should have in their collection, it will restore your faith in the fantasy genre.
Written on 11th May 2015 by Ant .
You may also like