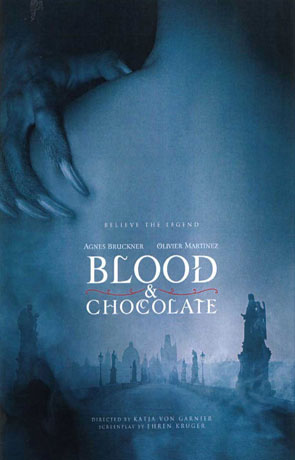 Book details
Blood and Chocolate

Publisher:

ISBN:

978-0552546126

Published:

February 1999

Pages:

264

Format reviewed:

Paperback

Review date:

25/11/2013

Language:

English

Age Range:

N/A
Blood and Chocolate's protagonist Vivian Gandillon loves the change—the sweetly painful way her body moves from human to wolf. At 16, she's stunningly beautiful and has all the men in her pack running after her. Her pack family, recently driven away from West Virginia where her father lost his life, reestablishes themselves temporarily in a Maryland suburb, where Vivian falls for a human.
Aiden is kind and a little too gentle, but exactly what Vivian thinks she wants. She finds her loyalties between the pack and Aiden tested when brutal murders begin to occur, the killer clearly a werewolf. Is Vivian human or beast? And, as the book asks, which tastes sweeter—blood or chocolate?
A widely popular and often banned book, Blood and Chocolate carries an interesting, not widely-seen theme: love your own kind. You are who you are and nothing will change that. It's certainly different from what is rampant in YA novels—the consistent theme that love breaks all bonds or prejudices. Blood and Chocolate tells us a different story. People either love or hate this, but I didn't read too closely into it. I found it quite beautiful that what Vivian initially fought against and rejected she wound up returning to at the end of the novel. It reminded me of how most of us have our little high school rebellions and later realize that our parents were right all along.
I read this book when I was in high school, and I absolutely adored it. When I reread it as an adult, I still liked it, but had a lot more beef with it. Overall, I think it's a great novel for young women despite its flaws (not enough focus on certain characters or plot elements, like Vivian's father's death). Klause writes with vivid imagery, beautiful passion, and makes werewolves come to life in a surprisingly sensual way. Vivian struggles with her humanity and her werewolf impulses; Blood and Chocolate wound up being a great piece of adolescent angst with a sensuous, strong taste that's bound to turn some people off and others on.
As a high schooler, I adored Vivian's character. I found her stunningly beautiful, witty, intelligent, and sexy. As an adult, I found her irritating and not sympathetic at all. She's self-assured to the point of vanity, she is whiny, and she believes that her looks can get her anything. But despite my annoyance with her, it worked for the character and for the book. Her confidence winds up being her downfall, and her strength and the way that she owns her sexuality is a huge asset to the book. It's rare to find a beautiful woman in young adult literature who is self-assured—most YA books I read have main female characters who whine about the little flaws in their looks, but Vivian is as confident as can be. Additionally, Vivian winds up having to find herself, love herself as she is, and recognize her beauty regardless of looks—that is a great message.
Overall, I wish that the book had focused more on the death of Vivian's father, Gabriel (first appearing to be just another idiot infatuated with Vivian, he ended up being a vital part of the plot and I was disappointed that I knew very little about him), the difficult choices that Vivian has to make, and the struggles with the violence she finds inside of herself. The characters aren't as well-rounded as I would have liked them to be, but the plot had enough of a twist that it almost surprised me the second time around reading.
The way that Vivian has to discover who she really is and what she is capable of made me have a little more sympathy when reading this one. Blood and Chocolate is possibly my favorite teen werewolf book—maybe even one of my favorite paranormal romances. It's fun, sexy, and enjoyable. Just don't read too closely into it.
Written on 25th November 2013 by Vanessa .
You may also like