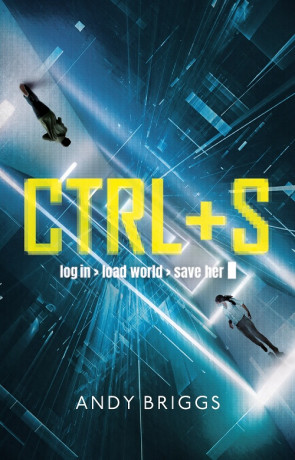 Book details
CTRL+S

Publisher:

ISBN:

9781409184645

Published:

July 2019

Pages:

416

Format reviewed:

Paperback

Review date:

03/12/2019

Language:

English
About the author
Computer Games used to be a child's plaything, but as gamers grow older and are still playing this is no longer the case (if it ever was). As many gamers mature their reflexes deaden and will they one day even be able to pick up a conventional controller? Something like Virtual Reality may be the solution as most people with basic mobility should be able to use it. If Science Fiction has taught us anything about VR is that it won't end up well. Why play games when you can experience the precipice of another's death?
Theo is a typical young adult in future London. He gets through his dead-end job in anticipation of his permitted hours a day in SPACE, the ultimate VR experience. SPACE allows you live your fantasies as if you are there, just get out before it leaves you braindead. When Theo's mother disappears, it takes Theo and his friends on a journey into the dark areas of SPACE; a place where people can hear you scream, they just don't care.
There was a balance in tone that was required when writing this book – is it an action-packed fun fest or a dark dystopian fable? Ctrl+S by Andy Briggs sets out to achieve both and the juxtaposition between the genres is a little jarring in places. Taken separately there are great action moments and great dystopian ones, but when the two mix, bad chemistry occurs.
At its heart I feel this book is a thriller written for a younger science fiction audience who like their action fast and often. The protagonist of Theo reflects this. He is a little naïve and goes about the story in an inexperienced way. Risking your life online is a lot different than in the real world, but at times it seems like Theo believes that he is invincible. This type of feeling often comes with youth and as you get older you realise that being careful is important. Theo throws himself into the action and that is great at making the book rattle along, but a wiser reader may question his decision-making skills.
This is because as well as being an action thriller Briggs creates a dark dystopian underworld. A world in which powerful forces harvest the minds and bodies of the poor to create newer and even more visceral VR experiences. There are some disturbing ideas found within the pages of Ctrl+S, which makes the knockabout action elements even more pronounced. How can a reader have fun reading a silly chase sequence, when there are people being slowly starved to death? Briggs is not quite able to balance the tone of the book. His cast is a little too young and blasé. It is almost as if they and Briggs do not reflect on the true horror that they are witnessing. The book would have worked better has some of the dark imagery been downplayed or the action been a little more mature.
There is no denying that there are some great science fiction ideas in this book. It takes the likes of Ready Player One and paints the future even darker, but like that book, it feels a little immature for the issues being addressed. I much prefer Briggs vision of a VR future, one in which overindulgence leads to brain damage, and yet people still willingly partake. With a little more darkness and weight Ctrl+S would have made more sense as a book. As it is, it is both a fun action novel and an interesting dystopian one. It is just that two different genres do not marry as well as they should.
You may also like