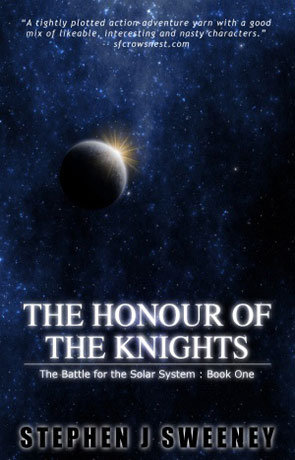 Book details
Books in the series
About the author
The Honour of the Knights is the first volume in the space opera series The Battle for the Solar System by Stephen Sweeney.

The Honour of the Knights is quite an accomplished novel, a grand story on a fairly epic scale with some good dialog and well rounded, engaging characters. The author has a very distinct voice that was to me slightly reminiscent of the Battlestar Galactica series. It's a very nice style and one that works very well in a space opera setting. This is re-enforced by the big hulking battleships and swarms of little fighters that make up the space fleets.

The Prologue is especially enticing and immediately captures your attention and imagination, however afterwards the pace slows a little for a but does build again as the story progresses and it really is worth persevering with.

The action is clear, descriptive and very rewarding, even in the bigger battles you never get disorientated or confused. The story itself isn't going to win awards for it's originality but it has been written with perspicacity and drive, with a strong voice and good attention to detail.

Overall The Honour of the Knights is a convincing space opera, written with a distinct style. Recommended.
Written on 7th February 2011 by Ant .
You may also like