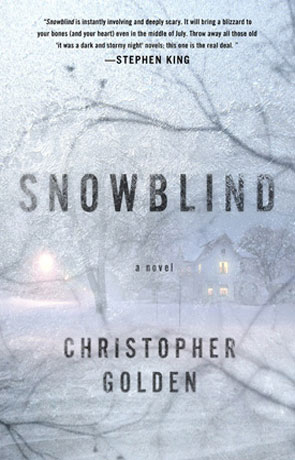 Book details
Snowblind

Publisher:

ISBN:

978-1250015310

Published:

January 2014

Pages:

320

Format reviewed:

Paperback

Review date:

27/01/2014

Language:

English

Age Range:

N/A
About the author
Snowblind follows the events of a small town of Coventry in the US state of Massachusetts which appears to have something of a unique storm. Not only a storm where people go missing or are killed but one that has an unearthly, supernatural twist. When the lights are extinguished demonic icicles grab the spirit of those they catch in an icy-cold death grip.
12 years later and it looks like this strange blizzard is set to return and once again grab the souls of the towns inhabitants.
Christopher Golden is a pretty smart writer and here he flexes his linguistic muscles managing to inject a little horror into a thriller style story. It does seem a little laid back at times though, a little slow to build into anything and while during this time he is creating some fantastically rich characters in the end there isn't actually that much of a story and pretty much everything happens in the last 50 pages or so.
The finale is good with a great deal of power but this also leaves you with an impression that we should have seem some of this power and suspense earlier on in the book too.
There are some interesting ideas going on though, the premise of returning victims makes the story a heck of a lot more interesting than it would have been otherwise. For all the time spent character building the protagonists don't really come across as relate-able or in some cases particularly like-able either. The horror elements help to lift the novel a bit but there doesn't seem to be enough thriller or horror to create a lasting impression.
Snowblind is an interesting story however there just isn't enough happening and I expected a great deal more from a writer of such caliber. An ok read but a bit disappointing.
Written on 27th January 2014 by Ant .
You may also like