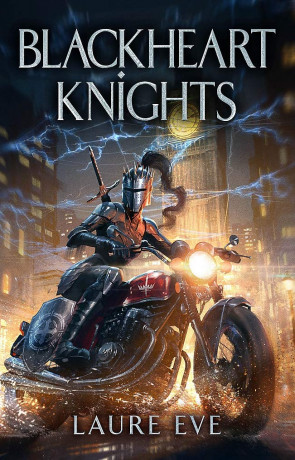 Book details
Blackheart Knights

Series:

Blackheart Knights

Publisher:

ISBN:

9781529411775

Published:

May 2021

Pages:

400

Format reviewed:

E-Book

Review date:

24/06/2021

Language:

English
Books in the series
One of the wonderful things about genre fiction is that an author can take their imagination anywhere and run with it. I can imagine a lot of things, but an alternative urban fantasy that has Knights on motorbikes. That is a new on me. Laure Eve's Blackheart Knights takes some of the essence of the Arthurian legend and places it in a steampunk style London lorded over by rival gangs. The only possibility of peace comes in the form of a single Sword King whose job is to keep this court of vipers in check. Think Game of Throne, but with more bike leather.
Art never wanted to be King, but as the only living relative of the dead King, his name is certainly in contention. He may be illegitimate, but he can be used by others to gain power. There are seven factions in London and each time a monarch dies they all vie for the role of Sword King. Blood does not mean succession, but it may just be spilled. Meanwhile, twenty years later a mysterious fighter called Red has entered the court with revenge in mind. What links these two lost souls across the decades?
The concept of Biker Knights feels like a strange one, but Eve manages to make it work by retaining the structure of a typical sword and sandals style fantasy. There may be the combustion engine and some basic technology, but the feel is still more medieval. A sense of valour and reputation imbues the book. There are those that believe in the creed of Knighthood and others that will use this naivety to their advantage.
Blackheart is a book full of leftfield ideas and not just in the world creation. The story is also told unconventionally. The narrative is split between Art 20 years earlier and Red, 1 year earlier. As the book progresses the narratives both move to towards the present, until they start to overlap. It is towards the end that reader starts to comprehend how many of the characters interact with one another.
The nature of the timeline means that we see a lot more of Art's life pass, than we do Red. There is an intensity to Red's story as she is thrown into the limelight and must fight to survive. Art also has these moments, but they are broken up by years of relative stability. If you know the Arthurian legend you will start to notice some of the relational entanglements earlier than others. The concluding section brings all the different strands together and you do get that sense of epic storytelling.
The politics in Blackheart plays a significant role. It is more in this camp than the fantasy that sees a lone warrior set off on a quest. If you enjoy your fantasy with characters that use their brains more than their brawn, you are in for a treat. There is action in the book, not only assassination attempts, but the Knights themselves fight in the courts on behalf of others.
The amount of sex in a book is not something that I often bother to bring up in a review as an adult book may contain adult content, but even I noticed there is a little more in this than in the average fantasy book! If this is something that bothers you, you may wish to avoid this book, if it is not, knock yourself out (like some of the characters may just do if they are not careful).
The central concept of Knights on Bikes may feel a little out there, but Eve has created a rounded political fantasy novel that has all the twists and turns you would expect from a Le Carre novel. The bonus is that you also get cool fights, cool bikes, and cool leathers.
You may also like