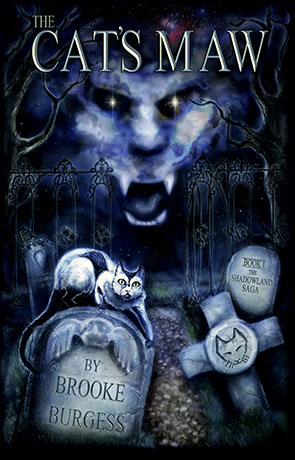 Book details
The Cat's Maw

Publisher:

ISBN:

978-1500971656

Published:

Pages:

279

Format reviewed:

Hardback

Review date:

06/07/2015

Language:

English

Age Range:

N/A
In the small, sleepy town of Appleton, Billy Brahm's life goes from clumsy to cursed. After following a cat into the road, he's hit by a car, his leg shattered, and his summer is ruined. A mysterious cat begins to visit him at his bedside, and Billy is haunted by strange dreams. According to the creatures in his dreams, Billy must find the key, a key that will heal the broken boy.
The Cat's Maw is a wonderful mix of surrealism, fantasy, and reality. I wasn't sure what to expect when I agreed to review the book, but I was wonderfully surprised. The writing was on point—descriptive, evoking, and gut-wrenching. The characters are so real that they make me slightly uncomfortable (Billy's parents, in particular, are a mix of manipulative and loving, something that makes me cringe and makes me feel for them). Billy's only friend, the local vet's daughter, Lynn, was poignantly written. I was worried it would become a romance, but their friendship was sweet and understanding, with Lynn being a foil to Billy's character.
Billy himself is thoughtful, smart, brave, and creative. His story is, ultimately, that of a clumsy boy navigating a world that won't stop throwing things at him. The plot is awfully quest-like, culminating in a harrowing adventure, but it is masterfully done. One event leads to another, from attending the party of a bully to visiting the town's crazy cat lady to the adventures that arise in his dreams. But there is a point behind every scene, and Billy gets through it all intact, despite that their heart-wrenching nature.
The dialogue flows naturally, and the prose is poetic without being overrun by frilly language. Burgess does a fantastic job, taking me back to the fragility and the pain of my own youth. There is a dream like state that surrounds the novel—Billy could be wrong, this could all be a figment of his imagination—but Burgess gives us just enough and creates a trust between reader and narrator that makes us believe that Billy is right.

Anyone who is a little different, or who struggles to relate to others, will see themselves in this book. Plus, it revolves around cats, and there are few things more interesting and wonderful than feline friends.
Written on 6th July 2015 by Vanessa .
You may also like