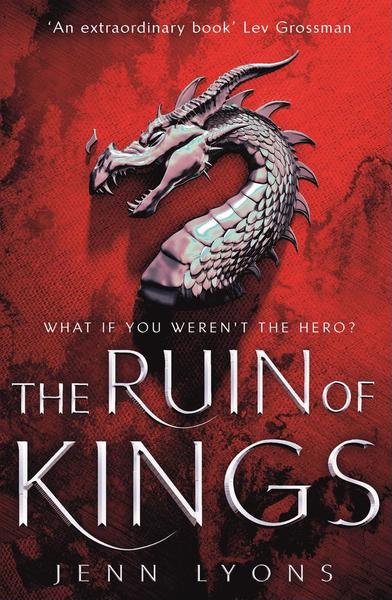 Book details
The Ruin of Kings

Publisher:

ISBN:

978-1509879489

Published:

February 2019

Pages:

560

Format reviewed:

Hardback

Review date:

18/02/2019

Language:

English
The Ruin of Kings is the debut of Jenn Lyons, it's an impressive way to make an entrance. The beginning of epic fantasy series A Chorus of Dragons, the book has just been optioned to be turned into a TV series.
Growing up in the slums of the city Suur, Kihrin learns to entertain with music while also leading a secret life as a thief. Then he robs from the wrong house and he finds himself the attention of some powerful people. Despite some serious attempts to end his life which cumulates in being grabbed by a demon, Kihrin suddenly finds he is the Bastard son of a prince and is thrust into politics and ruthless power plays. Kihrin quickly learns to realise that being a long-lost prince isn't what the storybooks promised and instead he's practically a prisoner.
He's also the focus of a prophecy that says he will destroy the world.
The Ruin of Kings is traditional fantasy brought up to date for the 21st century. The story isn't told in the traditional way, instead narrated as flashbacks with Kihrin chronicling his past to an enigmatic, demonic Jailor Talon. Talon is far from your average Jailor, she knows enough about Kihrin to tell her own tale of his past. These two stories - set at different times in the protagonists life and from first and third person respectively, alternate between chapters, which the author manages to do without confusing the reader. More unusually, Kihrins starts his story mid-way through, with Talon describing earlier events.
The story is engrossing, it's got some real dark edges to it and doesn't pull it's punches - but the overall feeling isn't that of grimdark. This is all set against a completely engrossing world full of magic and dragons and demons. The pacing is good while the characters are wonderfully dynamic, written in shades of grey.
The Ruin of Kings is an enchanting epic fantasy, with a thrilling plot, great cast of characters all set in a compelling fantasy world.
Written on 18th February 2019 by Ant .
You may also like