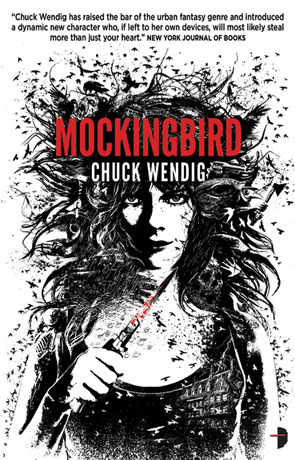 Book details
Mockingbird

Publisher:

ISBN:

9780857662323

Published:

September 2012

Pages:

416

Format reviewed:

Paperback

Review date:

03/09/2012

Language:

English

Age Range:

N/A
About the author
Mockingbird reunites us with that wonderfully screwed-up, dark and acerbic character of Miriam Black; the girl who has the (mis)fortune to witness how someone will depart this mortal coil with just a simple contact of skin.
Some time has passed since we last met that crazy bird and after a lifetime on the road she feels very much like a caged animal, trying to get by without using her ability she is trapped into some semblance of domesticity and cajoled into actual genuine paid work. When she touches a woman in line at the supermarket where she is gainfully employed, a vision tells her that the woman is going to die right there, right then and Miriam must act or see someones brains blown out for the second time in minutes.
Somehow this takes her back onto the path of her old life, only to find a much greater danger lurks right around the corner.
Blackbirds was a complete surprise, a rich, dynamic and clever novel that had bags of energy and a no-nonesense approach. Mockingbird manages to improve on this début in just about every way with a greater maturity to the already brilliant prose and taking the character of Miriam much further. Something I like most about a good series (regardless of format) is the development not only of the story but of the characters themselves and I just love the direction that Wendig has taken with Miriam. Many authors might have sat back and played it safe but not Wendig, he delivers something extra-ordinary and completely believable. I genuinely would not be surprised if I met Ms Black on the street (well maybe a little).
There is a more descriptive dialogue at play which manages to avoid slowing the pace down to any noticable degree and yet does provide a more rounded story while allowing us to learn much more about our anti-heroine. The voice is if anything darker than the previous book (partly due to the subject matter) and at times we are firmly within the realms of horror; or at the very least dark fantasy. The story itself plays out very much like a murder mystery, one that really keeps the reader glued to the book.
I love the way Wendig writes, he manages to make the prose feel both personal and accessible; lively and energetic and yet with a seriously bleak feel that has death lurking just out of sight. He also writes without any pretense, all of his creations are painted in various shades of grey and each could very well be real people; he seems to understand the human psyche very well.
Mockingbird isn't going to appeal to everyone; it is very dark and holds a maturity, a power that comes from a gritty realism and confident voice, superb fiction indeed.
Written on 3rd September 2012 by Ant .
You may also like