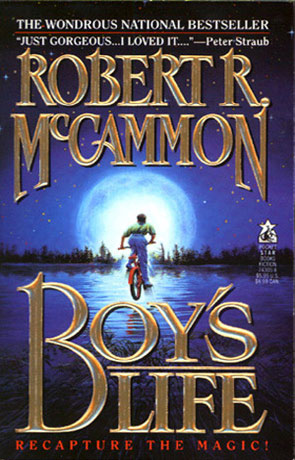 Book details
Boy's Life

Publisher:

ISBN:

Published:

1991

Pages:

608

Format reviewed:

Paperback

Review date:

11/08/2003

Language:

English

Age Range:

N/A
About the author
Boy's Life is a speculative fiction novel by Robert R McCammon.

Boy's Life is a masterpiece of magic and mystery, of splendors of growing up in a small town, and of the wonders beyond. Narrated by one of the most engaging young voices in modern fiction, Boy's Life takes us back to our own childhoods, when bicycles were enchanted and anything was possible.

Zephyr, Alabama, has been an idyllic home for eleven-year-old Cory Mackenson...a place where monsters swim in the belly of the river, and friends are forever. Then, on a cold spring morning in 1964, as Cory accompanies his father on his milk route, they see a car plunge into a lake some say is bottomless. A desperate rescue attempt brings Cory's father face-to-face with a vision that will haunt him: a murdered man, naked and beaten, handcuffed to the steering wheel, a copper wire knotted around his neck. As Cory struggles to understand the forces of good and evil at work in his hometown, from an acient woman called the Lady who conjures snakes and hears the voices of the dead, to a violent clan of moonshiners, he realizes that not only his life but his father's sanity may hang in the balance...
Written on 11th August 2003 by TC .
You may also like