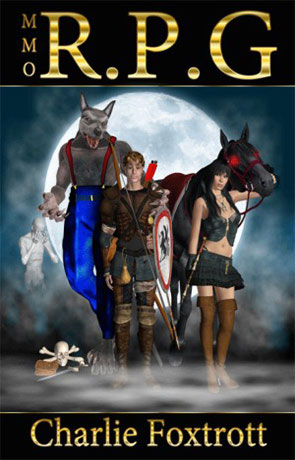 Book details
MMO RPG

Publisher:

ISBN:

9781849140652

Published:

November 2010

Pages:

330

Format reviewed:

Paperback

Review date:

19/05/2011

Language:

English

Age Range:

N/A
MMO RPG is a comedy fantasy novel by Charlie Foxtrott.

Thila Online is a new MMO RPG (Massively Multiplayer Online Role Playing Game) and when the developers pull the plug they forget to switch off the servers leaving the more advanced artificial intelligence characters that populate the virtual world to finish building the game themselves.

Three years later and thanks to the seven Gnomes that make up the games I.T Department, working in a dark shed round the back of an online pub with an online bank account, the world of Thila has becoming a thriving community with tens of thousands of players from all around the world. One of the games newest players is George Steel, which after signing up with his Dad's liberated Credit Card details finds himself well and truly logged in following a lightning strike. He awakes to find himself not in his own room but in a dark and mysterious forest.

If you have ever been interested in gaming or just wondered why people spent countless hours locked in a room watching a screen then this is the book for you, it's intelligent, creative and just takes the proverbial out of games and gaming at large at every opportunity. While there have now been a number of books based on MMO RPG's such as the Runescape series and Eve Online, those novels draw from the rich back story to create an involved story in which these fantasy worlds are considered real.

Where MMO RPG differs though is that it maintains that the game is in fact a game, contained on servers and run by programs. This gives the book a fairly unique aspect, think a 21st century version of TRON but in a fantasy world then you can start to grasp how it works .It's never taken too seriously with an underlying tongue in cheek humour that even makes you laugh out loud every now and then.

It's also full of little incidental details that you can imagine make up the average online game and this really does help to draw the reader in and also to understand how a real MMO RPG must work. Even if you have never played an online game before you can understand from this book how one must function.

The characters are well described, both online and in the outside world and the plot is interesting if a little predictable, the pace is set at quite a comfortable speed and there is a minimal amount of world building, most of which uses exposition when required, keeping the pace on an even keel and the reader glued to the pages.

MMO RPG is both a parody and an insight into the world of online gaming, perfect for those who exist within that world, or conversely those that just like an amusing fantasy story.
Written on 19th May 2011 by Ant .
You may also like