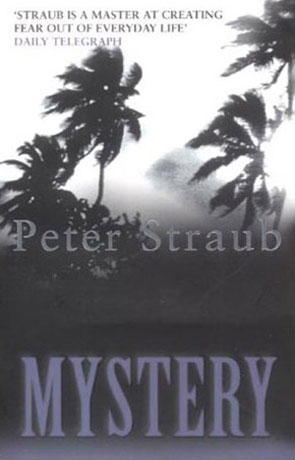 Book details
Mystery

Publisher:

ISBN:

Published:

1989

Pages:

560

Format reviewed:

Paperback

Review date:

01/05/1999

Language:

English

Age Range:

N/A
About the author
Mystery is a horror novel by Peter Straub.

This is the first book by Peter Straub that I have read. I have seen his name mentioned in the alt.books.stephen-king newsgroup a few times and when I found this book at the library, I thought "why not?". The About the Author thing on one of the last pages of the book tells me that PS has written The Talisman in collaboration with Stephen King.

I have always liked Stephen King (and have read a lot of his books, but have somehow never come around to The Talisman). I didn't know what to expect from PS, but I can tell you now that I liked this book a lot. It took me back to the period of my life where I went through as many Raymond Chandler books as I could lay my hands on. Mostly it reminded me of The Lady in the Lake, I'm not quite sure why, because the stories don't have that much in common and Mystery is not a gumshoe story (not in the classic sense anyway). Maybe it's the setting and the way the story is told in first person narration.

Well, I better tell you what this book is all about: It's about corruption, it's about murder, it's about people with too much power and too little respect for their fellow humans, but mostly it's about a boy who grows up in the middle of all this and finds himself forced to solve the mysteries that surround him. This boy Tom Pasmore is growing up on the "right side of the tracks" on a Caribbean isle called "Mill Walk". As Tom grows up he starts to find out disturbing things about why his father drinks too much and mostly ignores him and why his mother is so drugged up that Tom probably would have called her a Zombie, if the story hadn't been from before the first zombie movie (most of the story happens in the early sixties). Straub manages to build a story around Tom, that is quite interesting and very tangled, most of the time I felt that I had an idea what was going on, but mostly it turned out that I was way off track. I will recommend this book to anybody that likes a good detective story, but is ready for something a bit different.
Written on 1st May 1999 by TC .
You may also like