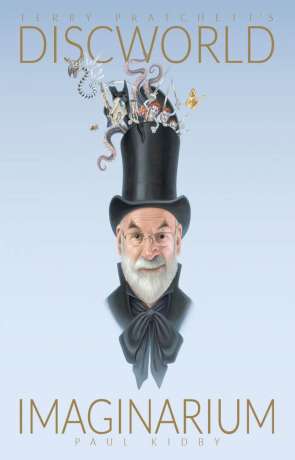 Book details
Terry Pratchett's Discworld Imaginarium

Publisher:

ISBN:

978-1473223370

Published:

November 2017

Pages:

272

Format reviewed:

Paperback

Review date:

08/12/2017

Language:

English
Paul Kidby was Pratchett's artist of choice and once described his lively, colourful illustrations as:
The closest anyone's got to how I see the characters
He's been drawing Discworld for over fifteen years, including the superbly illustrated Last Hero, not to mention The Art of Discworld and Terry Pratchett's Discworld Colouring Book. Terry Pratchett's Discworld Imaginarium collects the finest of his discworld illustrations, including 40 pieces that have never been seen before.
It's a spectacular, big and solid volume, lovingly crafted and full of Kirby's finest pictures of Discworld. Some are sketches while others full colour prints, all drawn with the careful skill and imagination of the artist.
Kirby writes a thoughtful introduction which provides insight into his work proccesses and his back ground - difficult to believe he has had no formal art training.
The book is divided into the areas of Discworld, from The Chalk through Lancre and Ankh-Morpork to Uberwald and even Death's Domain with each given a brief introduction.
Terry Pratchett's passing still leaves a big hole in my literary world, as I'm sure it does with many people and this Discworld Imaginarium is a fitting tribute to his genius.
Written on 8th December 2017 by Ant .
You may also like