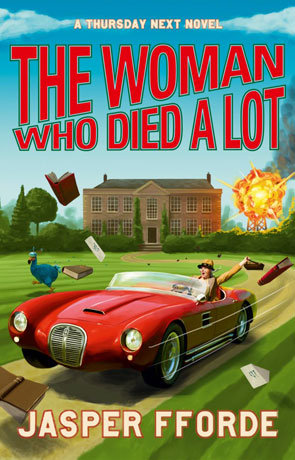 Book details
The Woman Who Died A Lot

Series:

Thursday Next

Publisher:

ISBN:

9780340963111

Published:

July 2012

Pages:

400

Format reviewed:

Hardback

Review date:

30/07/2012

Language:

English

Age Range:

N/A
Books in the series
First Among Sequels
One of our Thursdays is Missing
Something Rotten
I've been collecting Jasper Fforde novels for a while now however until I got this one through the door I hadn't actually read any of them; after reviewing this book I kinda wish I had paid more attention to the author earlier. The Woman Who Died A Lot is the seventh novel in the Thursday Next series and follows the continued adventures of the Next family.
Following an assassination attempt, Thursday is forced into a semi-retirement; any chances of quiet relaxation and recuperation however are foiled by family issues - Fridays lack of focus after his career in the Chronoguard was cut short, Tuesdays difficulties in building an Anti-Smote device and Jenny, who's only real issue is that she doesn't actually exist. As if that wasn't enough Goliath seem intent on replacing Thursday with a synthetic version, there is the ever-present threat of the eventual meteorite impact that would wipe out all life on Earth and something is very odd about the eventual destiny and demise of Fridays ex-Chronoguard colleagues.
Even though I've heard many good things said about Fforde's works I was still a little unprepared for just how different his writing really is. There is little I can really compare it against; the confident prose extrudes a literary quality, is full of allusion and metaphor and rife with a fresh and off-the-wall humour that has a surprising elegance about it, set within a future world that has already seen the consequences of Thursdays past adventures.
The overall feeling is incredibly inviting, warm and really draws you into this quite mad world; in parts it feels like a very clever person cracking dumb jokes and yet managing to make them sound funny and less like they just leapt from a cheap cracker. Even though you know much of it is quite silly its so inviting and so clever in its silliness that you just feel happy to go along for the ride. It's also got a certain timeless quality about it, a quintessential old England charm that speaks of tea and scones and the inadequacies of British Rail; yet set in an alternative future that has all sorts of strange technology, much of it seemingly invented by the brilliant mind of Tuesday.
There is clearly a great deal of history here, some past events are alluded to and the consequences mentioned briefly while others have clearly had a major effect on the world. Having not read the previous novels means that it is difficult to know what is a result of the previous story and what is new although the big things like the enigmatic Major are explained anyway and a lack of prior knowledge didn't prevent me from enjoying the book, although at times I did feel like I was part of an insiders joke I just didn't get.
The story feels quite meandering for the most part, unhurried and yet moving forward without pause and its only when you stop and think that you realise that there is more going on and that the book is heading along a pre-defined path.
There is just so much going on too, every page offers something new and it's one of those books that you'll discover something new every time you read it, and I seriously plan on reading it again.
Clever, funny, elegant and completely bonkers - the perfect book for anyone with a sense of humour.
Written on 30th July 2012 by Ant .
You may also like