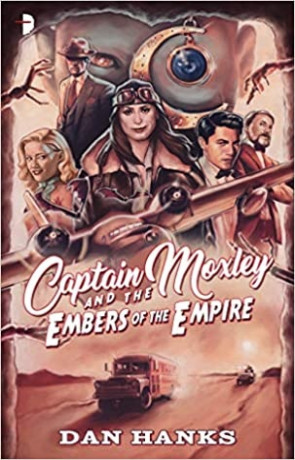 Book details
Captain Moxley and the Embers of the Empire

Publisher:

Angry Robot, Limited

ISBN:

9780857668721

Published:

October 2020

Pages:

Format reviewed:

E-Book

Review date:

08/09/2020

Language:

English
I have known a few archaeologists and historians in my time, and I can tell you that adventure is not always in their blood. I have found that they have chosen those professions as they seek the opposite of adventure. Perhaps a nice library or a quiet dig site. Given the choice between a cup of tea or a tomb packed full of deadly traps, PG Tips wins every time. They need someone like Captain Samantha Moxley to pull them along. She is no archaeologist, although she has a good knowledge of history, instead she is a magnet of sorts, a trouble magnet.
During World War Two, Captain Moxley spent a lot of time behind enemy lines working with locals to disrupt the Axis' plans. Through no fault of her own, she specialised in unravelling the occult plans of the Nazis. Her experiences led her to a job with a mysterious US Shadow Government Agency who work to fight and harness the things that go bump in the night. Now Moxley finds herself at odds with her former employers and the life of her sister is at stake. There is also the small fact that they may have just discovered the whereabouts of the lost civilisation of Atlantis and the weapon that destroyed it.
Captain Moxley and the Embers of the Empire by Dan Hanks sets of to be a high adventure from the off and does not stop. You cannot read the book without hearing the whispers of Indiana Jones as the two share similar time periods and a sense of entertaining action. There are significant differences though. Moxley for one is a female character, but she has all the strength, courage and pure luck of Indy. Where the real difference lie is in the full embracement of the occult. Moxley is full on monsters, parallel dimensions and undead Nazis. There is not final reveal here but set piece after set piece of supernatural action.

These moments are stitched together satisfactory by Hanks. There are some globetrotting moments, but he never forgets to spend some downtime exploring the characters and their relationships. Central to this is Moxley's relationship with her sister and her former lover – who happens to work for the enemy. There are several other relational links that give the book more depth than it otherwise would have had.
That is not too say that the book is complex. It is an adventure at heart and remains so. If you are a fan of puzzle solving and deadly traps, there are several here. In these moments it is the most Indiana Jones. Evoking one of the best franchises of the past 50 years is not the worst thing to do. I did spend some time waiting to see if Moxley is more than she first seems as she is battered, bruised and almost killed on several occasions, only to pop back up. This is more in the tradition of pulp writing than her being superhuman.
I have not read anything quite like Captain Moxley in some time and it made a refreshing change. It was traditional pulp action, but never forgets to add layers by keeping the characters relatable. With its high-stake premise and protagonists who seem a little too invincible, this is not a book for serious students of history. Instead, this is a book for someone who is in the market for an entertaining, fast and action-packed adventure.
You may also like