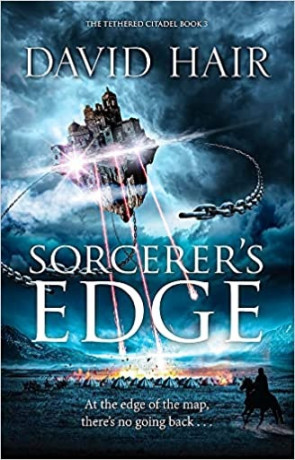 Book details
Sorcerer's Edge

Series:

Book 3 of The Tethered Citadel

ISBN:

9781529402148

Published:

October 2022

Pages:

394

Format reviewed:

Paperback

Review date:

19/10/2022

Language:

English
Books in the series
About the author
Endings are not easy, especially in epic fantasy series. Hundreds or thousands of pages all building up to this. Famously one TV adaptation finale did not go down very well with the fans, so if authors did not know it before, they know it now. David Hair's Tethered Cathedral trilogy comes to an end in Sorcerer's Edge. Can the author take all the tension that has built up over the previous two books and satisfy the reader. Spoiler. The answer is yes, this is the best in the series and a high to go out on.
When Raythe fled the might of the Bolgravian Empire, he hoped that he could take his daughter and a ragtag group of mercenaries, hunters and villagers and find their fortune. This dream did not quite happen as the Bolgravian's followed our heroes to the lost city of Aldar. Now, Raythe finds himself allied with the mysterious locals against a vast and powerful army on the doorstep. Will this small burgeoning community be able to win against the might of a whole continent?
I have thoroughly enjoyed my time with the Tethered series as Hair has built on them so well. Book one was a classic fantasy journey, from one location to the other. Book two established the community more and had them settle uneasily in a new land. Book three feels like another natural evolution, saving this new land with the help of their new allies, the Tangato. The three books flow into one large story, like a trilogy should. You get a sense of the whole story and a satisfying conclusion (with an opportunity for more tales should Cage wish).
One thing that Sorcerer makes great use of is the character development of the previous books. There is a classic fantasy fellowship and you have so many characters to care about. What will happen to them all? Hair makes sure that all the players get some sense of closure. With such strong characters, the action is heightened, you fear for their safety. Hair also adds more depth to the Bolgravian contingent. Zorne, the assassin, is not the only enemy given depth. This is vital for how the story unfolds as internal politics plays as large a role as the fighting.
The skirmishes and battles in Sorcerer are also a highlight. They feel gritty and are designed well. I read a lot of historic fiction and it is not always easy to describe a conflict in a coherent and exciting way. Cage has developed a great skill in this. There is a sense of ebb and flow to the battles, and you can picture the landscape in your mind. I was reminded of the battles in Bernard Cornwell's Sharpe series, and I hold that as a very high bar.
To compliment the great character development and battles are the fantasy elements. Hair unleashes all the high fantasy in book three as the most powerful players come into play. What is even more pleasurable is seeing power undone. Cage is happy to point out that loyalty and trust are as important in war as having the most powerful artillery. The book twists and turns as factions tear one another apart.
It always gladdens me when I read a finale that has been handled well and Sorcerer's Edge is just right. It is an evolution and departure from the first two books, but also relies on them for all the world building and character development that has gone before. With the confidence of a great set up Hair goes all out and creates an epic finale worthy of an epic fantasy trilogy. I recommend all three books as one of the most enjoyable fantasy series I have read with its sense of community and classic good versus evil conflict.
You may also like