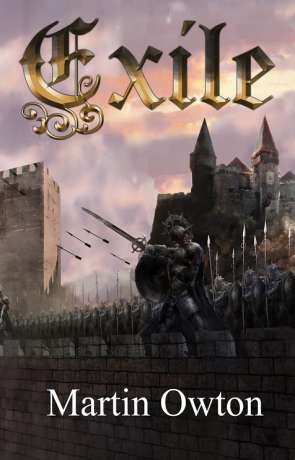 Book details
Exile

Publisher:

ISBN:

978-0993598432

Published:

April 2016

Pages:

286

Format reviewed:

E-Book

Review date:

26/10/2016

Language:

English
Book one of a proposed fantasy two-parter, Exile introduces us to a patch-work world of territories ruled over by the High King from his sacred city.
The earldom of Darien is betrayed and overrun. Its exiles scatter throughout the land, determined to reclaim their ancestral rights. Aron son of Eamon, an academy trained blade master finds a place for himself in the court of Nandor and, when an expedition is launched to rescue the Earl's son from the neighbouring duchy of Sarazan, he pledges himself to help.
This summary gives you a clear idea of the kind of story to expect from Owton in this work. Exile, is traditional medieval fantasy that puts a pragmatic and physically adept warrior in the right place at the right time to save an earldom and its nobility from disgrace and ill fortune.  Indeed, on this level, there's not much to find fault with. The writing is well executed and the plot skips along at a good pace toward an inevitable swashbuckling conclusion, where the fate of noble houses are at stake.
The weaker aspects of the work require some digging to find. Aron, our main character is a little bit faceless, being capable in every situation and generally unflappable, although at times, he isn't best pleased with the circumstances he finds himself in. He is particularly prone to being poisoned, as on almost every occasion food or drink is describe in detail, they have been doctored to kill or subdue him.
Then, we have the gender roles in the narrative. The female characters are generally cast in support roles, leaving the heavy plot lifting to the men. The most interesting, Lady Alice and the Goddess Iduna are given some ability to affect the plot at different times, but both are affected by the same issues as other women in the story, namely their attraction to Aron, who seems to charm everyone. There is an eighties or nineties sensibility to this, with scenes cutting away before any shenanigans ensue.
The sexual proclivities of Aron's enemy, Lord Tirellan, the invader of Darien, Aron's home, are mentioned only briefly, but depict him as a decadent and hedonistic sadist. With no other cast expressing a homosexual preference, this is a disturbing characterisation, as it seems to validate a particular binary association of hetero/good verses homo/evil. Owton uses the proclivities of Tirellan as a means to engineer a confrontation between him and Aron, but it all seems awkward and unnecessary, cutting against the dated tone of a classic fantasy adventure and proving to raise questions outside of the narrative. No signal issue amongst these elements is directly troubling, but taken as a whole, they raise questions.
Exile is a well written fantasy adventure that executes its narrative competently. However, there is little to set it apart or make it memorable. It is perhaps this that makes the sexual politics of the work a lingering trait well after the read is complete and something that may not win it favour in a changing world.
You may also like