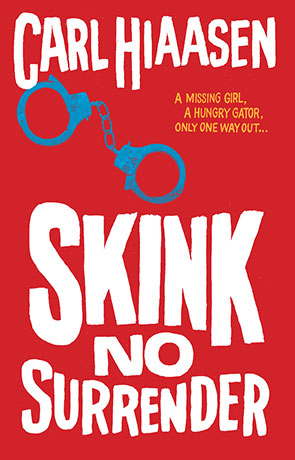 Book details
Skink No Surrender

Publisher:

ISBN:

978-0375870514

Published:

September 2014

Pages:

290

Format reviewed:

Hardback

Review date:

28/01/2015

Language:

English

Age Range:

13-
About the author
Richard's cousin Malley has just run off with some guy she met online, and Richard knows that things aren't as great as she tells him they are. What's a boy to do but to go after her, along with Skink, a ragged, one-eyed ex-governor of Florida?
The unlikely pair find themselves encountering storms, crazed wild hogs, some guns, and massive gators during the quest to find and safely return Malley.
Skink—No Surrender is a fast-paced, funny, and thrilling read, with believable (and very intriguing) characters and a great plot. My favorite character was, of course, Skink, the slightly crazed ex-governor. He's appeared in several of Hiaasen's books for adults, and it was great to see him make an appearance in this young adult novel. He's an absolutely larger-than-life character with strong views on integrity, honesty, and the importance of the protection of nature. I really enjoyed his relationship with Richard in the book—Skink is a flawed hero who really sticks his neck out for Richard and for his kidnapped cousin, Malley.
Richard was a great protagonist, though Malley left something to be desired—I found her to be flighty and annoying and kind of stupid when it came down to the wire. Regardless, I really enjoyed the twists and turns that the plot of Skink took, especially the way that Hiaasen wrapped everything up almost-neatly.
Though Skink—No Surrender is a young adult book, I would recommend it to anyone who likes a fast-paced, fun novel, and to anyone who loves the character Skink from Hiaasen's other novels.
Written on 28th January 2015 by Vanessa .
You may also like