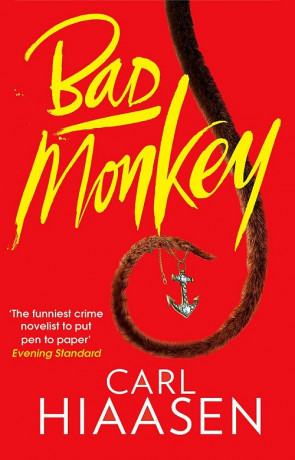 Book details
Bad Monkey

Series:

Andrew Yancy Series

Publisher:

ISBN:

9780751543346

Published:

June 2014

Pages:

416

Format reviewed:

Paperback

Review date:

22/01/2020

Language:

English
Books in the series
About the author
On occasion I see adverts on TV encouraging me to visit America. A collection of Hollywood and TV stars will speak the sights, sounds, tastes and smells that are distinctly American. It seems glamourous, it seems fun. However, when I read crime books set in America or sit down to watch the latest True Crime documentary a different picture is painted. Behind the glitz and glamour is the real America. An America that Carl Hiaasen has spent a career sending up. This is the America of Bad Monkey and you may want to rethink your next holiday to the Florida Keys as the only thing you are likely to catch when out fishing is a human arm.
Andrew Yancy was a top detective, but an unfortunate incident between himself and his lover's husband means that he is now out of a job, unless he is willing to work for the county as a food inspector. After only a few weeks of his new role Yancy is several pounds lighter vowing never to eat out again and angsty for a real case. When he is asked to move a disembodied arm to the morgue as a favour, he discovers that this arm may come from the victim of a murder, not an accident. Yancy can't help being the detective and with the aid of a curious mortician, he sets of to solve the case and get his old job back.
Hiaasen has been a master of dark comedic crime fiction for years and Bad Monkey is set well within his wheelhouse. It involves unlikable criminals, charismatic heroes and more than a smattering of grisly violence. Writing something that is both a legitimate crime story but also amusing is no easy task, but Hiaasen pulls it off. The humour in the book is found in some of the darkness, but mostly by playing off some of the idiotic things that humans do.
At the centre of the story is a murder mystery; whose arm was fished out of the sea and why were they murdered? However, the bites around the wound don't look quite right and losing an arm does not automatically mean you are going to die. The book becomes more of a con caper as you flip between the criminals and the unofficial detective. There are some interesting twists in the book, but what is always inevitable is the stupidity of people.
I enjoyed the balance between humour and menace in the book. Hiaasen has no problem in poking fun at American stereotypes, but he is also very adept at writing baddies that are truly scary. The book may be humorous, but the stakes are high should Yancy make a wrong step. He no longer has the support of fellow officers should be get into trouble.
The moments between the crime action are what standout for me in Bad Monkey. It would have been easy to have made these dull procedural sections, but Hiaasen is always aware of the need for humour and to entertain the reader. There as much enjoyment just reading about Yancy being forced to shut down Crab Shacks as there is trying to work out who did the crime. The criminal element is equally entertaining as their half-baked plans begin to unravel.
Bad Monkey is quintessential Carl Hiaasen that hits so many of the beats that he is known for. Fans will come to this work and find themselves once more in the hands of a master, but they won't be challenged. New readers are in for a treat as the humour and laidback style, coupled with nasty criminals and ultraviolence will be unlike most books they have ever read. This is an enjoyable book in of itself, but it also a great introduction to a wonderful back catalogue of the weird and wonderful world of Hiaasen.
You may also like