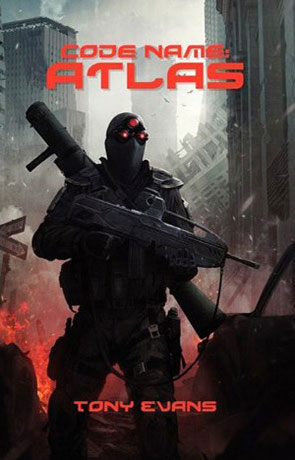 Book details
Code Name Atlas

Publisher:

ISBN:

Published:

June 2010

Pages:

310

Format reviewed:

Hardback

Review date:

03/10/2010

Language:

English

Age Range:

N/A
Code Name Atlas is a post-apocalyptic science fiction tale told by Tony Evans.

A war hero trying to leave his past behind finds himself using his skills to survive after the earth is ravaged by unknown forces. In the midst of this destruction anarchy reins and he finds himself raising an army to fight a war against a tyranical leader who will do anything in his power to control the population and lands around him.

Eventually it becomes clear that this skirmish is but a small part in a war that has been raging for hundreds of years and the key to understanding why the earth was destroyed may lie in understanding this war.

Right from the very beginning Code Name Atlas grabs your attention and doesn't let up to the very end. A gritty and realistic feel blends with a minimal use of science fiction elements to create a rich, believable and contemporary story of one soldiers struggle to keep his family alive.

The characters in the book are both emotive and easy to relate to, the dialog is both crisp and easy flowing with the story told from a first person perspective. There is a great sense of a small cog in a much larger machine here, much like HG Well's classic War of the Worlds or the recent film Coverfield where the story is essentially told from the trenches and the bigger picture is occasionally hinted at until nearly the end of the book.

The quality of the descriptive narrative here is superb and really brings the story to life and the pace is spot on. It's just so easy to get hooked into the plot and swept away on the journey. The underplayed use of technology works very well and manages to aid the suspense while keeping the story very grounded in reality and when the reasons behind the destruction of the planet become known at the end of the novel it's all the more poignant.

Code Name Atlas is a very accomplished, spirited novel of depth and intelligence that grips you in a vice like hold from beginning to end. Highly recommended.
Written on 3rd October 2010 by Ant .
You may also like