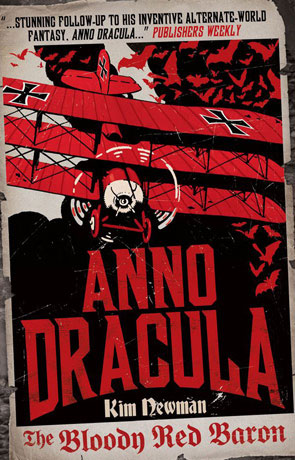 Book details
The Bloody Red Baron

Series:

Anno Dracula Series

Publisher:

ISBN:

9780857680846

Published:

April 2012

Pages:

416

Format reviewed:

Paperback

Review date:

05/04/2012

Language:

English

Age Range:

N/A
Books in the series
About the author
Those good fellows over at Titan books have released a brand new edition of the best-selling sequel to Anno Dracula, complete with an additional novella.

Continuing the alternative history tale where the vampire hunter Van Helsing was defeated by Dracula, bringing Vampirism into the open and for a time those cold-blooded killers lived alongside their warm counterparts (or food to put it another way) as Dracula gained the throne of the British Empire.

Forward to the 20th Century (1918 to be exact) and Dracula has shown his immortal face once again, this time he's the commander-in-chief of the armies of Germany and Austria-Hungary as they wage war against the allied European forces, a World War that is as much against the living and the undead than it is against the Axis forces.

The Diogenes Club remains at the heart of the British Intelligence and Charles Beauregard and his protégé Edwin Winthrop go head-to-head with the lethal vampire flying machine that is the Bloody Red Baron...

Just as intelligently written as the previous novel, The Bloody Red Baron is an excellent mixture of fact and fiction. The author clearly knows his stuff and seems to have an almost encyclopedic knowledge of Vampirism and the first World War. One of the things I liked most about the book was trying to figure out which was fact and which was fiction and any fan of history will just love this. It's this superb level of detail that makes the series something very special.

Quite a few of the characters from the first book make an appearance, including a now fairly old Beauregard (Thirty Years have passed since the events of Anno Dracula) along with a few new whipper-snappers like Winthrop.

Some of the ideas presented within are just brilliant including a number of metaphysical questions about Vampirism like how a Vampire feels about aging, how different bloodlines interact (we were introduced to the idea of bloodlines in the previous novel) and is it possible to cross into a Vampire state gradually and if so how far can someone go before they irrevocably become a creature of the night.

We also get treated to a number of well known historical figures becoming Vampires, the most noted of which include Winston Churchill, Edgar Allen Poe and Manfred von Richtoffen (aka the Red Baron).

The only niggle I really had with the whole book was that despite the changes wrought by the Vampire population the "Great" war seems to follow history very closely, despite an impact on the trench warfare and aviation (admittedly aviation did play a very limited role in World War one).

The Bloody Red Baron is Bloody and it's also pretty damned good too. You can read it perfectly well as a stand alone or following on from Anno Dracula, either way it's a great read.
Written on 5th April 2012 by Ant .
You may also like