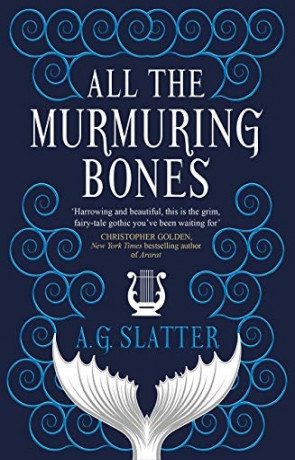 Book details
All the Murmuring Bones

Publisher:

ISBN:

9781789094343

Published:

April 2021

Pages:

320

Format reviewed:

E-Book

Review date:

08/04/2021

Language:

English
Have you ever sat down and read some Fairy Tales to your children? Not the sanitised versions that we read today, but the originals. If you have, you gave the kids nightmares as these are stories not about happiness and magic but of creatures and consequences. If you do something naughty, it is not the bottom step for you, but the belly of a beast. Surely the gentle Mermaid is not part of this hidden past? With their razor-sharp teeth and penchant for eating children, they certainly are, and A. G Slatter's All the Murmuring Bones should be seen as a cautionary tale next time you hear the siren call of a Merperson.
Miren O'Malley is the last in the line of a family who settled at Hob's Hollow, a once great estate, but over the years it has fallen into disrepair. It appears that the power that once made the O'Malley such a force is being diluted, just like the family blood. Miren discovers that the family tales told to her as a child have truth to them; one for the family, one for the Church and one to feed the curse. With fewer children being born, who is to protect the O'Malley's future? Miren has the mind to end the line forever.
Murmuring opens as all good Gothic novels should with a bleak and remote mansion house. Those that live inside rattle around within its crumbling walls and they sit upon a sea of secrets. Many of this type of novel will build to a reveal over the entire novel, but Slatter has not just written a Gothic novel, but a Gothic Fantasy Horror novel. This is a world in which people know that magic and creatures exist, just that many, like the Church, are trying to repress them. The curse that the O'Malley's live under is real and may be of their own doing.
The initial section of the book romps along well as a classic feeling Gothic tale. Our heroine dreams of freedom, but every time it gets close, the cage is closed once more. There is an aging and overbearing Grandmother and a violent suitor. It has all the flavour of a Wuthering Heights but with added Mermaids.
It is the use of magical creatures that makes Murmuring distinct. Rather than remain a linear Gothic tale the book soon opens. Miren is sent on an adventure that will allow her, and in turn the reader, to see more or Slatter's world. It is here that the book really opens. Slatter has already written several short stories set in the same world and she interweaves some of these into this novel length outing. Miren meets the likes of three ghosts and a Kelpie. These are almost contained stories, but they go a great way to weave the wider world, and it is a rich tapestry.
The book concludes in an alternative mansion house and a new Gothic tale begins with elements remaining from the first. It does feel a little strange to go from one traditional Gothic setup to another, but you would not want to miss any of the adventures that link the two. The use of fairy tales and myths makes the wider world a fascinating one full of excitement, but also danger.
The character of Miren is fantastic. She may be trapped, but that does not stop her. There is a power that runs through her personality that drives her ever onwards. There is no weakness here and she will do what is necessary to survive. They say that she is the last of the O'Malley's and some of the characters in the book forget this fact at their cost.
All the Murmuring Bones works as both a Gothic novel, but also as a Fantasy and as a Horror. The setup is pure Gothic, but the trappings are traditional Fairy Tale and Fantasy Horror. If you are a reader who enjoys any of these sub-genres, then this book will work for you. As a bonus you will also get a very accomplished world full of magic and wonder. Just don't plan to visit it.
You may also like