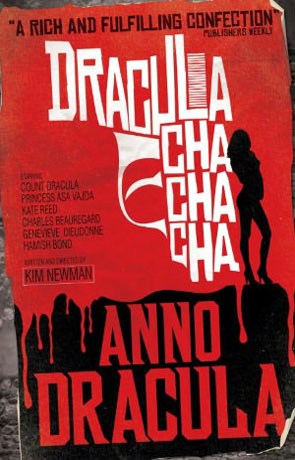 Book details
Dracula Cha Cha Cha

Series:

Anno Dracula Series

Publisher:

ISBN:

9780671022099

Published:

September 2012

Pages:

304

Format reviewed:

Paperback

Review date:

22/10/2012

Language:

English

Age Range:

N/A
Books in the series
About the author
Dracula Cha Cha Cha is the third novel in the Anno Dracula series, set in the alternative history of 1959 where Vampires are just another part of the population. This time we are in Rome as Vampires, intellectuals and other important people are gathering to witness the marriage of the count Dracul. The wedding is rumored to be the beginning of The Vampire Kings return to a position of power; to once again rule the western world.
Within the eternal city a murderer stalks the elder vampire, a situation that will propel the three female vampires along their destinies.
Kim Newman really knows how to spin a tale and Dracula cha cha cha is an incredibly well put together novel. The prose is dynamic, intelligent and stylish while the characters are as fantastic as ever. I loved how the author chooses to continue the story that follows on from Anno Dracula and the Bloody Red Baron - highlighting the immortality of the Vampire and the mortality of the human "warm bloods".
There are some brilliant characters brought to life here, all in the slightly different "Anno Dracula" style, including as the cover suggests a certain secret agent known as Mr Bond. The way that the author blends these fictional and factual characters within the story and changes them a little to suit the alternative universe is very well done. I would however loved to see more time spent with said secret agent, he just doesn't get enough screen time in my opinion.
There are a few big shocks in the book, the biggest of these actually happen before the ending too - which is quite surprising -it's got the best ending of the series so far, highly rewarding.
I do hope that Mr Newman continues with the series, it really does offer something quite unique along with some very clever narrative and a great set of characters. I'd recommend you read the first two books before reading this one but ultimately if you have the slightest interest in dark fantasy or horror I'd highly recommend you read all three.
Written on 22nd October 2012 by Ant .
You may also like