Legends and Lattes
By Travis Baldree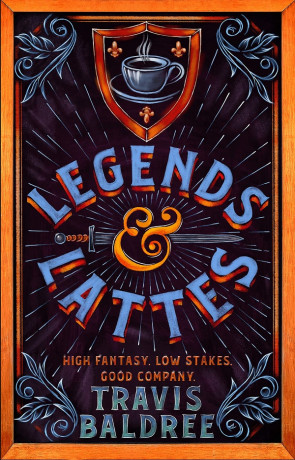 Book details
Legends and Lattes

ISBN:

9781035007301

Published:

November 2022

Pages:

294

Format reviewed:

Paperback

Review date:

28/10/2022

Language:

English
What is Comfy Fantasy? It is a new name for the type of fantasy that does not have you on edge all the time. As a genre fantasy can often feel epic, but also stressful. The heroes on the run from a darkness they cannot fathom, or a fellowship were hardly anyone can be trusted. Sometimes you just want to sit down with a nice hot coffee and read something a little more joyous. Legends and Lattes by Travis Baldree is perfect for just that.
For over 20 years Viv the Orc made a living doing the grisly jobs no one else wanted to do. Along with her band of rogues they killed menacing creatures, assassinated annoying leaders, and murdered and pillaged the land. Viv has had enough and after one last job has settled in Thune to open the city's very first coffee shop. How will a violent looking Orc with no experience succeed in selling a drink no one has ever heard of? A splash of magic and a little help from her friends may just do the job.
Lattes is sold as high fantasy, low stakes and that is the perfect description. That is not to say that the stakes do not exist, but they are more relatable. Reading about an entrepreneur opening a new business is something I could do. Fighting a dragon with a magic sword – less likely. Viv is not battling monsters but battling how to set up a café and get customers to pay for drinks.
To this, Viv needs some help. One of main thrusts of the book is whether Viv believes she deserves to be happy after so many violent years. To guarantee success, she buries a magic stone under the café, but is it the magic or her that is making things work? Viv soon surrounds herself with colleagues that soon become fast friends and, in one case, more. A succubus, a gnome, a rat like cook. All these unlikely allies are perfect to make the coffee shop work. As the book progresses, they become more like a family.
This is a comforting book and Baldree takes time to enjoy the atmosphere and the characters. Food and drink play a significant role and it reminded me of the classic food sequences in Brian Jacque's Redwall books. Like those books, Lattes may have all the creature comforts, but there is trepidation underneath. Will Viv be able to ward off the local gang? And can she stop one of her ex-mercenary friends from taking the magical stone for themselves?
Lattes is not the longest book, but there is plenty of story available, just contained within the same few city locations. To top things up there was an extra short story set in the same universe and a Q&A with the author. There is plenty in the main story to make this a worthwhile purchase. It is fun, uplifting and does have tension when needed. It felt like returning to the same essence as Terry Pratchett's Ankh Morpork, but with a gentler humour. That is a place I miss, so am happy to go to Baldree's Thune instead.
You may also like