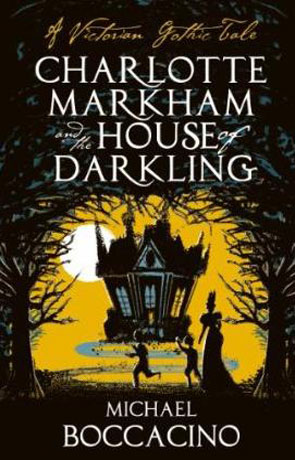 Book details
Charlotte Markham and the House of Darkling

Publisher:

ISBN:

9781781164464

Published:

July 2012

Pages:

320

Format reviewed:

Paperback

Review date:

17/10/2012

Language:

English

Age Range:

N/A
Charlotte Markham and the House of Darkling is a unique offering that manages to create a Victorian gothic-esque supernatural adventure that manages to create a tangible feeling of suspense.
Set within an ancient, remote manor house, the story begins with the murder of Nanny Prum - carer for James and Paul who's mother has passed away and father owns the estate. Charlotte, employed as governess takes over Prum's role and part of such routine involves a daily visit to the grave of their dearly departed mother.
On the way back from one such visit they become lost in a thick fog and chance upon a strange, mysterious house known as Darkling. The house is clearly different and doesn't seem to exist outside the normal laws of the universe - not least because it is also home to the boys mother.
When you first begin reading this book you are struck with the feeling that it's going to be a "period drama" such as those written by Jayne Aire and ilk however a quarter way through when we are first introduced to Darkling it becomes so much richer and more rewarding. To be honest I am not a fan of period dramas and had I not been reviewing the book I would have probably given up before it really got going. I am very glad I didn't and it's a good reminder that sometimes you should give a book a good chance before abandoning as you just never know how it can unfold.
There is much to like in this story, the prose is incredibly rich and more than a little poetic while the atmosphere (once you get into the real story) is something quite special. It's the quality of the narration which really lifts the novel and it makes a difference, the author has a real talent for descriptive narrative that manages to evoke the imagination. I loved the little details, many of which are drawn from folk-lore such as the sightings of the "men in black" which all add to this pervasive sense of doom, a dark feeling that overlays the visits to this alternative realm - quite tangible and very rewarding.
There is more than a hint of Lovecraft about the creatures that inhabit this alternative dimension, a disturbingly twisted feeling that speaks of Elder Gods and unseen horror.
A number of messages play through the plot, the main one being an exploration of human nature and the changes brought about by the death of loved ones which is also connected to the difficulty in letting go of those departed souls and the effect those absences have on the living. I enjoyed the ambiguity in the actual setting, it's clearly victorian inspired and yet at the same time has a modern edge too.
Charlotte Markham and the House of Darkling is a bit of a surprise, get through the first few chapters and the novel improves exponentially becoming an intelligent, thought provoking tale that delights the pallet with a unique style all it's own.
Written on 17th October 2012 by Ant .
You may also like