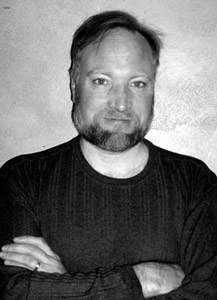 J Robert King is an american award winning author and has published over 20 novels to date. As well as an accomplished author, he also stars in local theatre productions including The Complete Works of William Shakespeare (Abridged) and Arsenic and Old Lace.

According to King, he prefers fantasy to reality, he believes that writing is a sort of hypnosis and considers a novel a success if he manages to convince the reader they are a chicken.

His most recent work includes is the acclaimed novel "Angel of Death" and "Death's Disciples", both published by Angry Robot Books. He lives in Wisconsin with his family and can ride a unicycle (although not while writing).
Bibliography
The Mad Merlin Trilogy

Mad Merlin (2000)
Lancelot du Lethe (2001)
Le Morte d?Avalon (2003)

The Onslaught Cycle, Magic: the Gathering

Onslaught (2002)
Legions (2003)
Scourge (2003)

The Invasion Cycle, Magic: the Gathering

Invasion (2000)
Planeshift (2001)
Apocalypse (2001)

The Double Diamond Triangle Series, Forgotten Realms

The Abduction (1998)
Conspiracy (1998)
The Diamond (1998)

The Blood Wars Trilogy, Planescape:

Blood Hostages (1996)
Abyssal Warriors (1996)
Planar Powers (1997)

Single Volumes

Carnival of Fear (1993)
Heart of Midnight (1993)
Summerhill Hounds (1995)
Rogues to Riches (1995)
Vinas Solamnus (1997)
Time Streams (1999)
The Thran (1999)
Humors (2006)
Suicidals Anonymous (2006)
Shadow of Reichenbach Falls (2008)