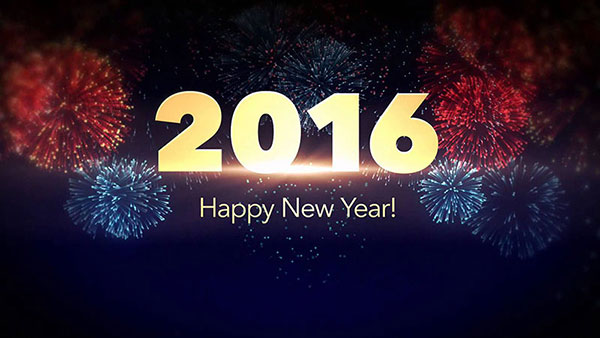 SFBook would like to wish everyone a Happy New Year for 2016.
The last 12 months have been a rewarding one for book readers with a number of stand-out novels from some massively talented and diverse authors, despite attempts by small but vocal groups to bash the genre back into the stone age. It's a genre that is becoming increasingly diverse and accepted to a wider audience — 2016 is set to be a big one for genre books with some publishers such as Orbit doubling their intended SF/F output.
We've got a multitude of big books to look foward to on the horizon, rumours abound that we may even see GRR Martin finish The Winds of Winter, although I wouldn't hold your breath. We WILL have a graphic novel from Margeret Atwood, apocalypse novel All the Birds in the Sky from I09's editor in chief Charlie Jane Anders and Babylon's Ashes - the next novel in the Expanse series by James SA Corey. We are hopeful to see Dave Hutchinsons third book in his fractured Europe series — Europe in Winter later this year.
This month we will be treated to a new book from China Miéville — This Census Taker, although really this is novella size and we have to wait till August before we get his full size novel The Last Days of New Paris. Also out in January are Keith Lee Morris's horror outing Travelers Rest and Tim Powers new novel Medusa's Web.
Others to look out for in 2016 include:
City of Blades, by Robert Jackson Bennett (January)
Bands of Mourning, by Brandon Sanderson (January)
A Criminal Magic, by Lee Kelley (February)
Morning Star, by Pierce Brown (February)
The Immortals, by Jordana Max Brodsky (February)
Stars Above, by Marissa Meyer (February)
Borderline, by Mishell Baker (March)
United States of Japan, by Peter Tieryas (March)
Snakewood, by Adrian Selby (March)
The Winged Histories, by Sofia Samatar (March)
The Courier, by Gerald Brandt (March)
The Spider's War, by Daniel Abraham (March)
The Raven King, by Maggie Stiefvater (March)
Sleeping Giants, by Sylvain Neuvel (April)
The Everything Box, by Richard Kadrey (April)
Every Heart a Doorway, by Seanan McGuire (April)
The Edge of Worlds, by Martha Wells (April)
Arena, by Holly Jennings (April)
Children of Earth and Sky, by Guy Gavriel Kay (May)
The Raft, by Fred Strydom (May)
Central Station, by Lavie Tidhar (May)
The Fireman, by Joe Hill (May)
League of Dragons, by Naomi Novik (May)
Too Like the Lightning, by Ada Palmer (May)
Escapology, by Ren Warom (June)
Infomocracy, by Malka Older (June)
Ninefox Gambit, by Yoon Ha Lee (June)
False Hearts, by Laura Lam (June)
A Green and Ancient Light, by Frederic S. Durbin (June)
Stiletto, by Daniel O'Malley (June)
Spells of Blood and Kin, by Claire Humphrey (June)
The Thorn of Emberlain, by Scott Lynch (July)
The Race, by Nina Allan (July)
The Dinosaur Knights, by Victor Milán (July)
Death's End, by Cixin Liu (August)
The Obelisk Gate, by NK Jemisin (August)
Certain Dark Things, by Silvia Moreno-Garcia (October)
Crosstalk, by Connie Willis (October)
A Taste of Honey, by Kai Ashante Wilson (November)
Heartless, by Marissa Meyer (November)
The Witchwood Crown, by Tad Williams (Summer / Autumn 2016)
Please note this list is not exhaustive, we will try and post more about these books and others in time, feel free to get in touch with any we've missed.
There is even the slight chance that Patrick Rothfuss might finish the third book The Kingkiller Chronicles — Doors of Stone, although again in the same vein as Martin, it will be done when its done...
It's clear that going into 2016 the balance between digital and print is settling down, with print books still dominating sales. According to Nielsen BookScan over 571 million print books were sold in 2015 — thats 17 million more than 2014. Ebook sales accounted for 25% of total sales, way below the 50% that was predicted by many in the publishing industry. Paperbook sales have been so strong that Waterstones even took the decision to stop selling Kindle's so they could devote the space to print.
Personally I've always thought paper would dominate. I've consistently choosen print over ebook, not least due to the fact that there is more the sense of physical ownership. Despite the leap in technology, I still find print books easier to read. I like my Kindle and do use it but only when I can't get a paper version of a book I want to read.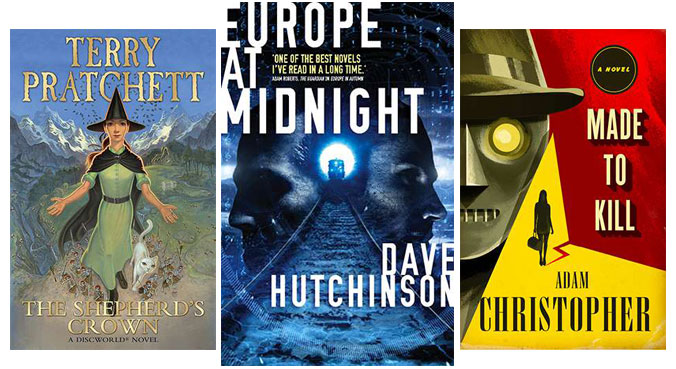 2015 seems to have been a year where science fiction and fantasy reached further into mainsteam than ever before. Boosted by the likes of Kazuo Ishiguro with the Buried Giant and a host of talented authors including Dave Hutchinson with Europe at Midnight, Terry Pratchett's swan song The Shepherds Crown and Peter Higgin's wonderful finale of The Wofhound Century series — Radiant State. Film has also played a big part with a number of well received blockbusters (not least the quite wonderful Star Wars: The Force Awakens) showing that the mass market do enjoy genre fiction (or at the least a damn good story). The "Star Wars" effect is likely to have a positive impact on genre book sales going into 2016 as people clamber to find more space-based stories to sate their post-awakens hunger.
Other stand-out novel's we reviewed in 2015 include Adrian Tchaikovsky's Children of Time, Chris Beckett's followup to his award winning Dark Eden — Mother of Eden, Al Robertson's Crashing Heaven, the plausible but worrying future of Roboteer by newcomer Alex Lamb and Adam Christopher's wonderfully nuanced Chandler-esque robot detective novel Made to Kill.
We've even seen The Scarlet Gospel, Clive Barker's long awaited novel finally finished. Last but by no means least, regular reviewer Allen also had his rich and rewarding Anthology A Bag of Bedtime Tales critiqued by reviewer Aaron Miles.

SFBook group of reviewers has continued to grow, each of which add to the rich tapestry of opinion with their individual voice and I'd like to thank each and every one for their much valued contribution. Special thanks must go to Allen Stroud who's commitment to SFBook has been both exemplary and hugely appreciated.
Happy New Year and best wishes for a 2016 full of the fantastic.