Gollancz May 2015 Paperbacks
Gollancz Paperback of the month for May 2015 is Adam Roberts exceptional story of artificial Intelligence, Bête — which we reviewed last October. Roberts is a writer who seems to improve with each book he writes and Bête is quite simply stunning. It's set sometime in the near future and explores our relationship with the natural world and how that is changing with the steady march of technological progress. Witty and clever, it was one of my favourite books of 2014.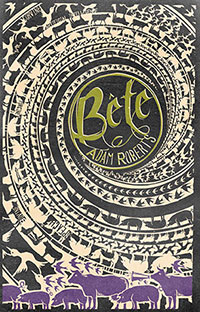 Gollancz is also re-releasing the late Harry Harrison's novel Bill, the Galactic Hero which happens to be one of my all time favourite books and is 50 years old this year (THAT makes me feel old). It has been described by Terry Pratchett as:
Simply the funniest science fiction novel ever written
and by a Vietnam Vet as:
The only book that's true about the military
You can see my review here. It has also recently been turned into a student created, crowd funded film, directed by Alex Cox — the Director of the 80's classic Repo Man.
The Incorruptibles by John Horner Jacobs is also a May paperback release and was reviewed by DL back in September who described the novel as "A tightly paced novel that feels fresh, leaving behind characters to be pondered long after the story ends."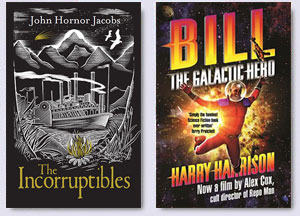 Joining the SF Masterworks collection this month is Night Lamp by Jack Vance. Vance is a legend in science fiction, he won 3 Hugo awards (back when Hugo awards really meant something), a World fantasy award, an Edgar award and the Jupiter award. He wrote countless stories and became the 14th Grand Master of the Science Fiction and Fantasy Writers of America in 1997. He has been hailed by the president of the SFWA, Steven Gould as:
One of the greatest science fiction and fantasy writers of the 20th century
The New York Times Magazine went so far as to say Jack Vance was:
One of American literature's most distinctive and undervalued voices
Night Lamp was originally published in 1996 and follows the orphan Jaro Fath who, following a beating that almost killed him, is raised by childless couple Mr & Mrs Fath. Jaro grows up missing memories of his previous life and strives to become a spaceman so he can go out to the stars and discover the truth of his missing past. It's an under-appreciated classic and makes a welcome entry in the SF Masterworks list.
This months Fantasy Masterworks release is The Forgotten Beasts of Eld by Patricia A McKillip. Patricia A McKillip is one of the finest fantasy authors you've probably never heard of and won the very first World Fantasy Award for Best Novel (back in 1975) for this very book. She has since won the Locus award, the Mythopoeic Award (twice) and won the World Fantasy award for a second time in 2003 for her novel Ombria in Shadow (an accolade she shared with the late Graham Joyce for his novel The Facts of Life).
She became a recipient of the World Fantasy Award for Life Achievement in 2008.
The Forgotten Beasts of Eld follows Sybel, a great-granddaughter of the wizard Heald and keeper of the fantastic beasts that surround her home on Eld Mountain. Cut off from the rest of humanity she finds herself tangled in the affairs of humans after raising the baby Tamlorn whose mother is killed. Tamlorn is also the son of the King Drede and inevitably they both become embroiled in the human world of love, war, death and revenge. You can see my review here.