JK Rowling Knighted in France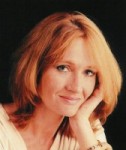 JK Rowling, the best selling author of the Harry Potter series, has been Knighted in France. The title of Knight of the Legion of Honour was bestowed by the French president Nicolas Sarkozy at the Elysée presidential palace. Sarkozy told Rowling:
You've helped give young people back the taste for reading and writing
He then went on to thank her for encouraging children to understand reading is a source of pleasure, not a punishment.
JK Rowling, speaking in French, assured the ceremony that when she picked a name for her arch villain, Lord Voldemort, she had not landed upon a French-sounding name because of "anti-French feelings". "I needed a name which evoked power and exoticism," she said, adding that "Voldemort himself is 100% English".
She then went on to reveal that one of her great grandfathers (who was French) was also bestowed the same title for courage on the battlefield during the battle of Verdun.
The Legion of Honour was originally created by Napoleon Bonaparte in the early 19th century and although foreigners cannot actually be inducted, they can and are made honorary recipients, with past Knights including Steven Speilberg and Barbara Streisand.