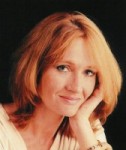 Joanne Rowling, writes under the name J K Rowling (the K is for Kathleen, her grandparents name) and is one of the most successful authors in the world with her 7 book Harry Potter series which has become one of the biggest selling book series in history and turned into 8 very succesful films.

She has been ranked the 12 richest woman in britain and the 48th most powerful celebrity of 2007. JK Rowling is perhaps just as famous for her own story than for books as she was living on welfare when she first thought of Harry Potter, in 1990, while she was on a four-hour-delayed train trip from Manchester to London.

The idea for a story of a young boy attending a school of wizardry "came fully formed" into her mind. "I really don't know where the idea came from", she has been known to say, "It started with Harry, then all these characters and situations came flooding into my head." When she had reached her Clapham Junction flat, she began to write immediately.

JK Rowling is a notable supporter of a number of charities and organisations.